Rosella launches into the foodservice market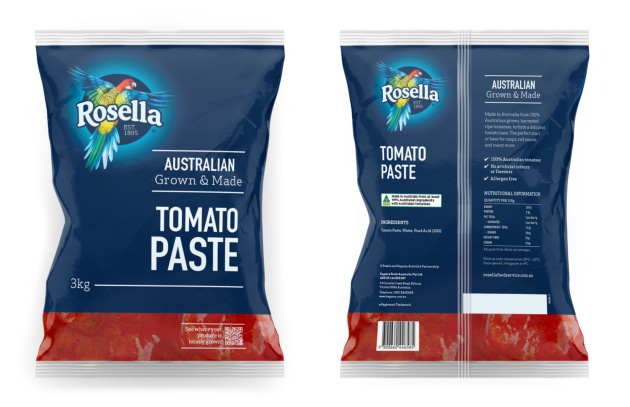 Iconic Australian brand Rosella, which has been putting tomato sauce on snags since 1895, has partnered with Australia's largest tomato grower and processor, Kagome Australia, to launch a new foodservice range.
The range includes bulk packs of tomato sauce, tomato paste, tomato puree, pizza sauces and Napoli sauce.
The entire range will be made with tomatoes from Kagome's farm in Echuca in northern Victoria's Murray Valley region, where they have been growing non-genetically modified tomatoes for 10 years.
Through Kagome's unique 'paddock-to-plate' branding tag, each product will be traceable to the region it was grown and made, so providers will know the precise location of their produce.
"Research shows nine out of 10 Aussies are more likely to buy locally made products. It's good for our farmers and local communities – so it's a smart move for restaurants and food brands to use Australian ingredients – commercially and ethically. It's what consumers want and expect more of – no matter whether they eat at home or in a restaurant," said Anthony Davie, CEO of Sabrands, the parent company of Rosella.
The new wholesale range will be available nationally through foodservice distributors. 
 If you happen to be in the area, on March 9 Kagome is inviting members of the Echuca community to its 'pick-a-box' charity event at Parncutts Farm. Locals can pick boxes of Aussie grown tomatoes for $10 per box (with a maximum of five boxes per person) – with 100 per cent of proceeds raised going to Echuca Regional Health.