New Zealand King Salmon launches limited Ōra King TYEE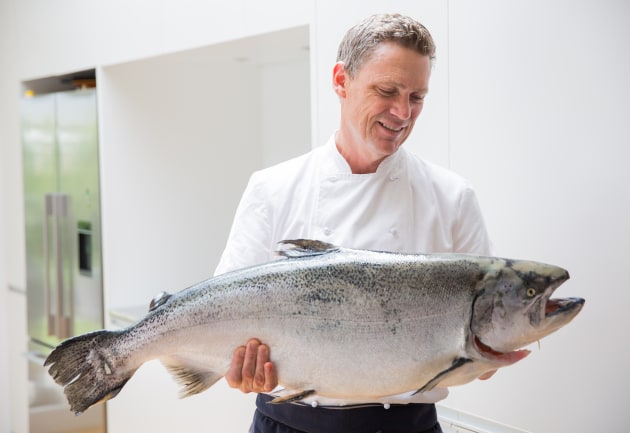 From March 2018, select chefs across Australia will have access to Ōra King TYEE, New Zealand King Salmon's limited Tyee salmon.
A premium product, over 24 years of research and a classical breeding program in New Zealand King Salmon's clean and chemical-free farming environment have gone into developing Ōra King TYEE.
Indeed, Ōra King TYEE are king salmon which have been allowed to grow over a longer period of time.
The average weight of an Ōra King salmon is around 5 kilograms with a two-year life cycle, while Ōra King TYEE grow to over 13 kilograms and an average age of four years.
General manager marketing at New Zealand King Salmon, Jemma McCowan, is excited to launch this product to chefs and diners in Australia.
She says, "Because of their longer-life cycle, Ōra King TYEE have a more developed flavour and oil profile.
"The flesh is refined with dramatic white marbling and the natural oil content in the belly is notably high, drawing comparisons to bluefin tuna."
The exclusive group of Australian chefs who have experienced Ōra King TYEE have enjoyed its clean and nuanced flavour, as well as unique 'bite' and creaminess.
Tasmanian-based chef, Mal Meiers, says, "Ōra King TYEE has the same quality and consistency that Ōra King is known for.
"The flesh firmness and marbling exceed expectation and I believe will redefine the market."
To register your interest in interest in Ōra King TYEE, please visit orakingsalmon.co.nz/tyee.