Brasserie Bread revamps the humble hot cross bun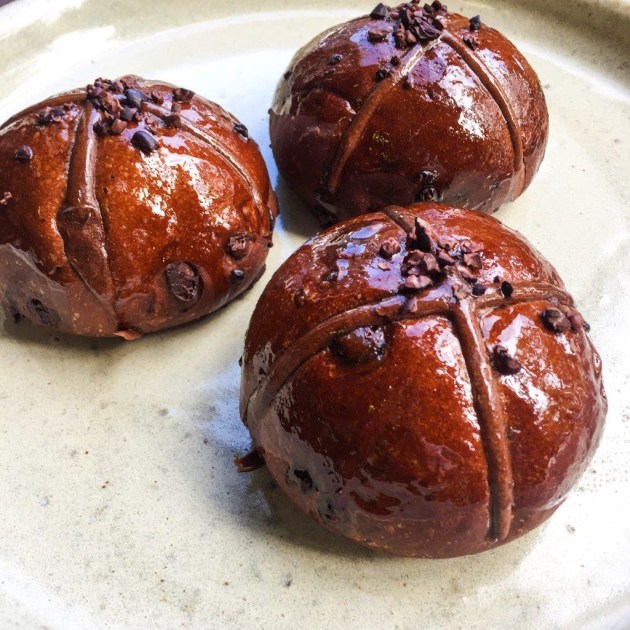 With Easter just a week away, artisan bakery Brasserie Bread has partnered with Nomad Chocolate to handcraft their finest chocolate hot cross buns yet.
In the exciting collaboration, the Triple Chocolate hot cross buns are made from ingredients sourced from around the world, something Brasserie Bread and Nomad Chocolate believe has enabled them to create a product of remarkable quality and flavour.
"The idea of partnering with this premium chocolate maker came from our shared passion for sourcing ethical and sustainable ingredients," said Michael Klausen, co-founder of Brasserie Bread.
The origins of the buns chocolate can be traced to Central and South America.
Both the 72% dark chocolate couverture and nibs are from a single estate in Esmeraldas, Ecuador while the 100% dark cocoa powder is made from premium Trinitarian cacao beans, ethically sourced across the Dominican Republic.
Nadja Malovic, owner of Nomad Chocolate, says, "The secret to creating the best tasting chocolate is sourcing the purest and finest ingredients and placing them in the hands of skilled artisans."
"The result," says Malovic, "a smooth and beautifully balanced dark chocolate that will take you on a journey back to its source."
The buns will be available at the following cafes and retailers:
Brasserie Bread (Cafe at the Bakery), Banksmeadow (NSW)
Morgan's Fine Foods, Mona Vale (NSW)
Allpress Rosebery, Rosebery (NSW)
Nourished Wholefood Cafe, Avalon (NSW)
General Store & Cafe Berrima, Berrima (NSW)
Lexpresso House, Woolloomooloo (NSW)
Diggies, Wollongong (NSW)
Piccolo Espresso, Prahran (VIC)
Melba's Food Hall, Brunswick West (VIC)
Jackalope, Mornington Peninsula (VIC)
Hey Zeus, Footscray (VIC)
Ritchies IGA, Mount Waverley (VIC)
For further information, please visit brasseriebread.com.au.