An Impossible Truth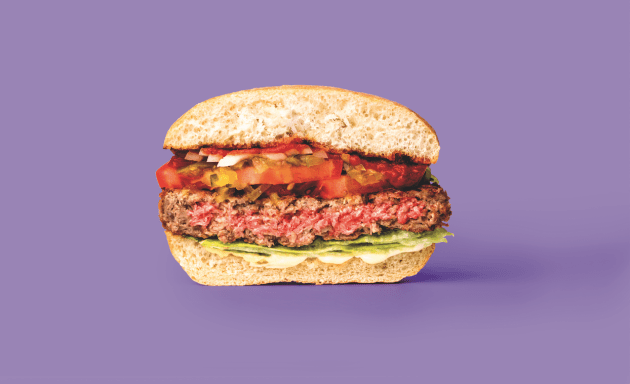 Vegan food is one of the fasted growing industries in the world, with faux meats making up a hefty piece of that pie. Jill Dupleix tasted Impossible Foods' highly talked-about bloodless "bleeding" burger in Singapore and came back to tell the tale. They could save the planet from a massive dose of methane, but how delicious are they, anyway?
Plant-based restaurants are growing across Australia, driven by our increasing awareness of the environmental impact of animal farming. Chefs are upping their vegetable and vegan options, and forward-thinking food chains (Grill'd, Lord of the Fries, Hungry Jacks) are embracing the new 'meatless meat' products from around the world.
But the big breakthrough, for market leader California-based Impossible Foods, was to isolate heme, or soy leghemoglobin, a compound from soybean plants that mimics haemoglobin and makes the non-meat meat seem to 'bleed', before blending it with soy protein, potato protein, and coconut and sunflower oils into a burger patty.
I'd been looking to try the Impossible Foods burger ever since Momofuku founder Dave Chang took a bite of the prototype back in 2016. "Today I tasted the future, and it was vegan," he declared. "I think it might change the whole game."
It has. But how quickly should a restaurant, cafe or bar embrace the concept of a processed food that 'looks like meat, tastes like meat and even bleeds like meat'? Does it offer it alongside or instead of real meat? And wouldn't that be selling our already hard-done-by farmers down the proverbial?
Impossible Foods hasn't arrived in Australia yet (I've heard the product is priced similarly to Wagyu) but a recent trip to Singapore gave some insight into how – and how not to – incorporate plant-based meat into a restaurant menu. I'd been told it's on the menu at Bread Street Kitchen by Gordon Ramsay but I can't find it. "I'm sorry, madame, it's only on the vegetarian menu." Well that's silly, Mr Ramsay. The point about the Impossible Burger is that it is for everyone – not just vegetarians. How on Earth are you going to convince meat-eaters not to eat meat if you hide it on the one menu they will never ask for?
When I finally find it, this burger looks the picture, I have to say. With its nicely glazed squishy bun that collapses like a cushion to the touch, it's layered with cheese, mayo and lettuce. The thick meat patty is a very believable pink in the centre, although the meat only has one consistent texture. In truth, it tastes well-done, even though it looks rare. It also tastes a little sweet and white-peppery, but what surprises me is the overall fresh, clean, and un-fatty flavour, until a slightly strange after-taste kicks in. (The chips on the other hand, are horrible.)
It's a difficult and divisive subject, and I find myself torn, embracing both the 'eat less meat, but eat better, more ethical meat' movement, and the exciting potential of plant-based alternatives for diners. Just don't hide them on your vegetarian menu. And make sure the chips are good.