The world's most sustainable salmon farm supplies some of Australia's top restaurants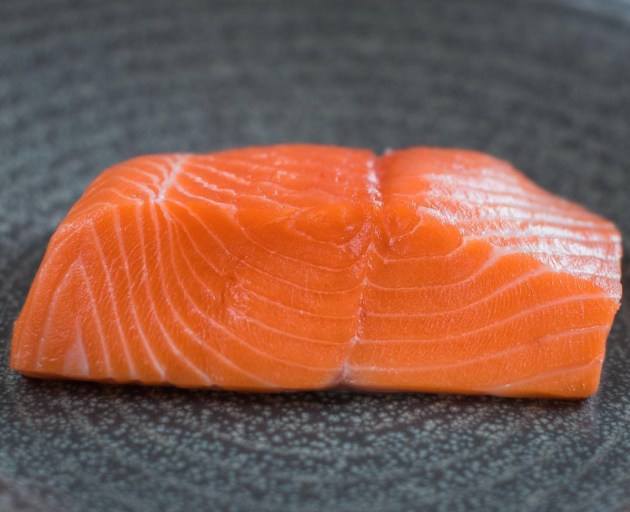 Tasmania's salmon industry is booming. But while the oily fish is cooked ubiquitously in Australian homes, it's slipped from the fine-dining world in recent years. Now, small-scale, artisan producers are turning the tides. John Susman found one farm that's leading salmon's charge back onto fine-dining menus.
Everywhere I look in seafood retail these days, the colour is orange.
Salmon has become something of a go-to for home-cooked seafood meals, and the growth of Australia's salmon farming industry in Australia has been one of the country's standout agribusiness successes. The first commercial harvest of Tasmanian salmon was in 1986, ringing in at 53 tonnes. Now the predicted harvest for 2019 alone is over 60,000 tonnes.
The salmon phenomenon has not been endemic to Australia alone, salmon farming worldwide has experienced extraordinary growth in the past 20 years. More than two-and-a-half million tonnes of salmon are produced globally each year.
Salmon, trout, and their relatives, which make up the fish family Salmonidae, are the iconic fish of the north pocket of the Northern Hemisphere. They are characteristic of the region's cold and productive oceans, rushing streams and rivers, and deep lakes.
Salmonids have adapted for life in dynamic landscapes created by glaciers, volcanoes, earthquakes, and climatic extremes. They thrive thanks to their mobility and ability to adapt to local conditions, from deserts to rainforests. This has resulted in a handful of species producing hundreds of genetically-
distinct subspecies.
In Australia, the rainbow and brown trouts can happily survive in the wild freshwater systems around the southern coast, but the Atlantic salmon's natural biology still yearns for the conditions of home, 15,000 km away.
It is the uniform nature of salmon and trout, (their consistent presentation, flavour and texture) and their amazing tolerance (due to the intra-muscular fat that retains moisture in the flesh when cooked) that have made them so popular with fishmongers, chefs and consumers alike.
Salmon has lost some of its sparkle in foodservice, or at least at the top of the food chain in high-end dining rooms. But not everyone feels this way, as nearly 60 per cent of Tasmania's salmon and trout production is sold through the foodservice industry.
Con Andronis of Clamms Seafood, supplier to some of Melbourne's best restaurants as well as a primary supplier to the major supermarkets and industrial caterers of Victoria, views the situation pragmatically.
"Tassie Salmon is our boneless chicken fillet," he says. "Sure, it mightn't have the immediate appeal of wild-caught bass groper or iki jime, or line-caught Tassie trumpeter, but it doesn't matter if it's blowing 40 knots in the Bass Straight, it's still there. And let's be honest, it's still good eating."
Over the past few years, a number of "speciality" salmons have come onto the Australian market, offering culinary diversity beyond what's available at the supermarket.
A range of species of salmon from Alaska, Canada and New Zealand is now consistently available in Australia, but one fish in particular is leading the charge back onto menus in the fine-dining world: the freshwater king salmon grown by the Mount Cook Alpine Salmon Farm in the Mackenzie Basin on New Zealand's South Island.
Here, king (sometimes referred to as Chinook) salmon is sustainably farmed in the Hydra Canals, which carry the icy water from the Franz Joseph Glacier to lakes Tekapo, Pukaki and Bemore, which support New Zealand's largest renewable hydro scheme. The sheer isolation of this pristine landscape protects the fish from environmental contamination.
Every minute, more than two million gallons of water pass through the farm, demanding the salmon are constantly swimming in the seven-knot flow. The result is that the fish swim the equivalent of half a marathon each day, unlike many salmon that are farmed in the marine equivalent of a beef feedlot.
Combined with low stocking densities and a natural diet, Mount Cook Alpine's salmon has been recognised by the international consumer watchdog, Monterey Bay Aquarium, as the most sustainable farmed-salmon in the world.
But it is the fish's flavour and texture that's putting in on chef's order forms.
With a clean, light flavour, distinct mineral notes, and a non-oily texture of fine intra-muscular marbling of fat, the flesh is creamy and soft.
Acclaimed seafood chef Steve Hodges of Sydney's now closed Fish Face Dining is adamant: "The Mount Cook Alpine salmon is unique. It has an incredibly clean flavour, with a light, green-walnut note on the back palate and a texture like no other farmed salmon. I find it amazing raw, and the perfect canvas for curing and lightly cold-smoking."
So, while the supermarkets battle it out with deli cases full of monotonous orange fish, it is great to see lesser-known, sustainably farmed salmon breeds making a return to restaurants through the innovation of artisan farmers.
This article was first published in foodservice's March 2019 issue. To subscribe to foodservice's monthly print magazine, click here.