Guava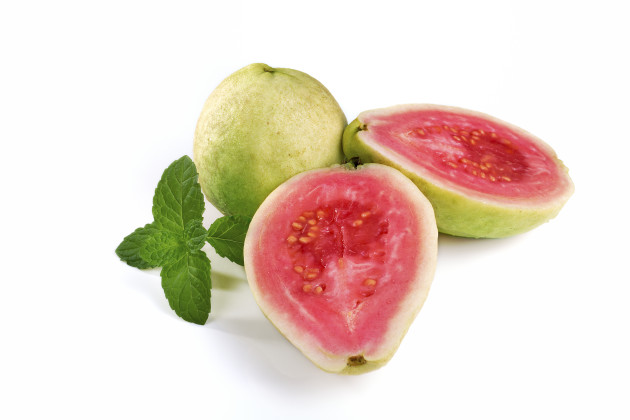 This fruit is one that flies 'under the radar' and is often relegated to the cocktail shelf, The guava makes for a tasty cocktail, that's for sure, but there's so much more to this exotic fruit.
The guava is a superb tropical fruit whose origins are not completely clear – perhaps Brazilian, possibly Mexican. But we do know it has now spread all over the world, including to Australia. It's typically grown around northern NSW and our local season runs from around April through to July if conditions are good.
The place of origin of the guava is uncertain, but it is believed to be an area extending from southern Mexico into or through Central America. It has been spread by man, birds and other animals to all warm areas of tropical America and in the West Indies (since 1526).
Also known as Acca sellowiana or 'pineapple guava' the juice of guava is sugary and sweet. Excellent for jams, preserves, jellies and juice for cocktails; there are several varieties including Thai white, red and yellow cherry guava along with the pineapple guava. The guava is considered medicinal in Brazil where they make a tea of sorts from the guava leaves.
The beautifully fragranced, tropical fruit ranges in size from a small egg to the larger ones, which are around the size of a medium apple. The shape can be round or also more oval, with a light green or light yellow edible skin. The colour of the flesh varies from white or pink to dark red and the seeds are also edible – although more often than not, they are removed. It is rich in vitamins, especially vitamin C, containing four times the amount found in an orange. When very ripe, the guava is sweet, juicy and supplies a little taste of paradise.
Look for a fruit that is free of blemishes on the skin. It can be eaten raw, cut into pieces and consumed like an apple or it can be taken with a pinch of salt or pepper. It's also sold as a street snack in Taiwan and India, where it is sprinkled with chaat masala.
Jenny Hobson McGrigor is from Murdoch Produce. Read more about the business on murdochproduce.com.au.