In its 16-year run, luxury Sydney-based caterer Gastronomy has clocked up an impressive list of events and clients. Its ongoing success comes from turning out not just beautiful food, but personalised experiences, as Timothy Grey reports.
"You can have a spit-roast for very cheap," admits Miccal Cummins. "But that isn't the right experience for everybody. Some people want something really fabulous."
Earlier this year, for instance, Cummins' high-end catering company, Gastronomy, organised an elaborate Great Gatsby-themed wedding at Australian Technology Park. A modest guest list of 850 sipped champagne from crystal glassware, while 110 waiters circulated 10 courses, including canapés. The founder says it took him six months to source the 160 antique silver ice buckets the bride and groom described.
Obviously, any event on this scale requires more than a little planning. The job, he says, is like moving house everyday. Cummins relishes the challenge. "I really like change," he says. "I got into catering because I like moving around, and I like exploring different menus. That's different to most people; most people would like to write a menu that's going to run as long as possible."
Gastronomy, which has a swathe of accolades, including former Restaurant & Catering NSW Wedding Caterer of the Year and Boardroom Caterer of the Year (Coca-Cola and Macquarie Bank number among its clients), also caters for intimate gatherings, from a luxurious 10-person dinner party to a special fortieth birthday at a holiday home up the coast, and the same attention to detail and care is given to a small event as the big ones.
Like many of Gastronomy's 70-strong casual staff, Cummins (pictured) was introduced to hospitality as a student. During art school, he worked as a kitchen hand in his local Thai restaurant. "I was so inspired by those guys," he recalls.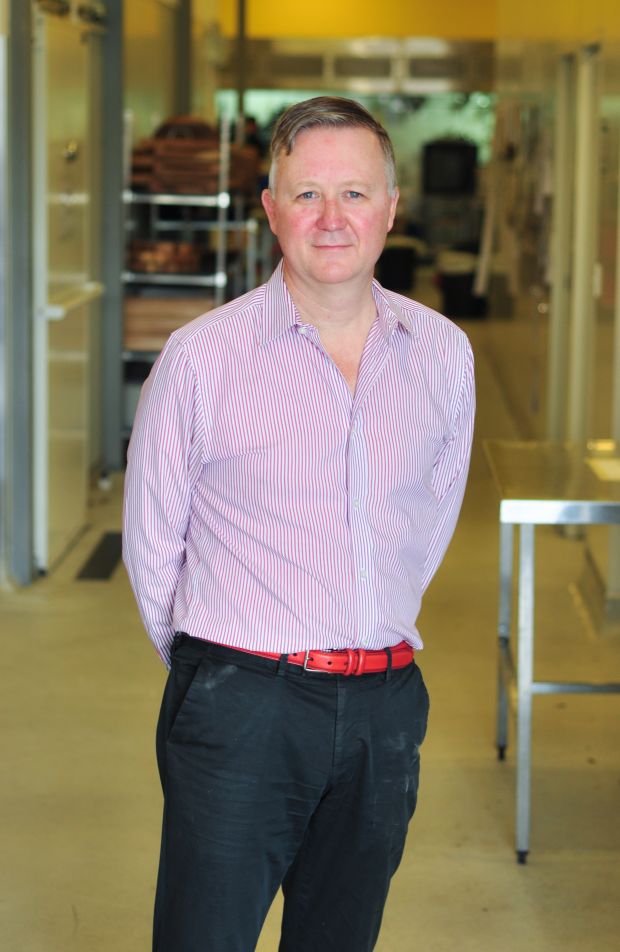 Once he'd graduated and spent a couple of years in fashion, Cummins realised that he really wanted to return to that Thai restaurant. Well, he upgraded slightly, joining David Thompson at Darley Street Thai.
From there, he moved to the Summit Group, where he took on the role of training and development manager, and found a mentor in Oliver Shaul. "I recognised in him the kind of skills I wanted to have and the person I wanted to be," says Cummins of the owner. On his side, Shaul saw someone that was highly motivated to learn.
During Cummins' tenure, he gathered experience in establishing systems that improved induction and training, and allowed chefs to do what they do best: cook.
"I realised it was the job of a business owner or restaurateur to organise things around the creative people so the creative people could just produce food and not worry about how things came together or how systems were built," he explains.
By this time, Cummins was interested in moving into events – though, at the time, there was no course for aspiring caterers. He moved to Sydney's Royal Botanic Gardens, determined to learn the skills that would help with his goal. "The Botanic Gardens didn't do any outdoor events; it was just a restaurant where you had a function inside," he says. Cummins experimented with some events in the garden; once he'd mastered it, he was ready to cater on his own.
That was 16 years ago. Since then, he's curated parties for Kylie Minogue, Marcia Hines and Bryan Ferry. His enviable guest list is due, no doubt, to the standard Gastronomy sets. General crockery and cutlery are procured at great expense – a setting for 200 in blue and pink Willow plates, for instance, or 50 sets of gold cutlery.
"What separates us from a lot of premium caterers is that we own so many of our own beautiful things," says Cummins. The generous selection means that individual tastes can be readily accommodated.
The tableware's not only top of the line, it's temporary; Cummins expects to replace his entire crockery and glassware inventory every year. "You move a plate 40 or 50 times in a year, the chance of it being chipped or broken is 100 percent. I think I learned that pretty early on," he says.
He emphasises the upside. "Ironically, once you say I'm breaking everything, as bad as that is, it frees you up mentally to move and transition into new things."
Produce-wise, the company's executive chef, Cyril Miletto, and head chef, George Sinclair, concentrate on sourcing top-quality seasonal produce from the surrounding areas. "Using local produce is a little bit hard when you're in the middle of a city with four million people, so you have to expand your idea of local to the Hunter Valley, Blue Mountains and Mittagong," he says.
The company's commitment to sustainability extends further: solar panels installed on HQ's roof generate one-third of their energy needs and OzHarvest picks up excess fresh food.
Unlike in the restaurant business, the chefs don't have the comfort of a stable menu. Rather, clients dictate the cuisine on a job-by-job basis. Particularly successful dishes move into Gastronomy's general repertoire, which is presented as a seasonal menu that's mailed out to potential clients.
"As soon as you move into offsite events, customers can order whatever they want, and they want you to fix it for them," explains Cummins. "Clients come to us, we go and do our research, we put together dishes, we put together styles and the menu surges forward."
Mise en plus takes place in a 700 square-metre industrial kitchen and storeroom in Alexandria, where Gastronomy's 52 full-time staff are based. Prepping for dishes begins three days before an event and meats are seared or sous vided and cryovacced, to be cooked to order in an oven onsite. All pastry is done in-house, and breads are delivered fresh on the day. Miccal says his team can do anything so long as the client's got an oven. "The only bounds we put on them are physical bounds," he says.
Cummins makes a point of regularly photographing dishes and settings for use on social media. From his perspective, Instagram helps demonstrates to clients that a business is consistently creative. "People use Instagram to check that we're the real thing," he explains. "Anybody can have a website – they're carefully prepared. But I think Instagram and Facebook are important because people get more immediacy with what you're doing."
As far as staff go, Cummins is still focused on training. He runs a four-hour induction course at head office before they ever see a guest. "A lot of casual staff are highly intelligent people who're looking for a bit of money while they're doing their university degree," says Cummins. "So it's about getting their skills up as soon as possible."
Once an event is in full flight, it's all hands on deck. If it's an event for 1400, Cummins raids the offices for waitstaff. "My human resources manager will be supervising waiters, my bookeeper will be pouring drinks at the bar," he says. "And bang, we're away."