The chef/owner of The Zin House in the Mudgee Region is passionate about locally sourced ingredients and minimal intervention.
Where did the passion for celebrating regional food come from?
The realisation, when running my first restaurant 30 years ago, that you cannot separate being part of a community from what is produced in that community. And it's in my genes, as my grandparents were market gardeners and my mother a fabulous cook.

Why is it important to celebrate regional food?
You not only end up with great food but you get to be part of a connected chain of production. These days, the regional food movement is also playing an important role in educating kids and communities about healthy, sustainable eating and farming.
Do you think the industry as a whole is good at supporting local and regional produce?
It's so much better than years ago but there's still a lot of lip service in an industry and public much obsessed with what food looks like rather than what goes into a dish.

You worked in catering and organising major events before opening your own venue – do you prefer cooking en masse or the intimacy of the restaurant?
There's a certain buzz and challenge associated with good catering and satisfaction in delivering catered food that has flavour, not just 'function' food, but my heart is definitely in the restaurant kitchen these days and the flexibility of following my garden that smaller numbers allows. I also don't miss the stress and constant packing and unpacking.

The food at The Zin House is from as close as possible with as little intervention as possible. Why do you think simplicity is important?
David Lowe says that making organic wines means you have less weapons – perhaps similarly simple food gives you less places to hide. Simplicity is one half of the partnership with cooking from scratch, so it doesn't mean we don't do anything, just that everything is considered and not unnecessarily complicated. It's about choosing not to stack, squeeze and smear on plates or smothering everything with micro herbs. It's about seeing beauty in simple things and combinations, and appreciating what nature does without always feeling compelled to improve on that. It's the little black dress of the food world.


What do you think about the complexity within the industry in terms of techniques, presentation, ingredients and flavours?
It's fine for those people who choose to use all the gadgetry but no one should believe it's necessary to being a good cook. For me, I think about the favourite meals I've ever enjoyed and it's as often about the people and surroundings, closely followed by good home cooking or pared back professional cooking. A chef can own the most expensive collection of Japanese knives on the planet and it won't improve my meal one bit.

What are your future plans and aspirations?
We've just booked Leo Sayer for a concert on The Zin House lawn in February next year. I'm looking forward to having some fun combining my skills in event management with that as a restaurateur to create personal, high quality concerts.
We're also looking at an eco-lodge – just to keep busy.

What are your hopes for the future of the foodservice industry in terms of regional/local produce?
That it's just expected, not an add on. That farmers are paid well as an encouragement and a reward for hard work and custodianship. That customers demand authenticity and quality, and value that as much as technique riddled food.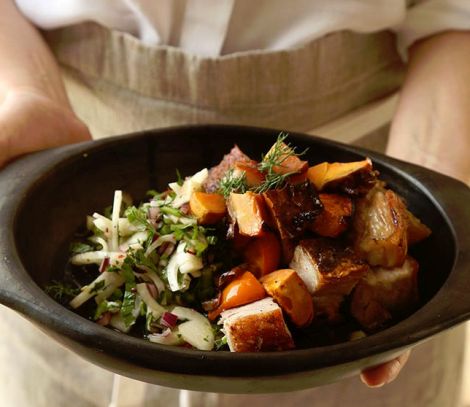 What are you most excited about in your garden/on your menu at the moment?
Winter is the time you really appreciate tough performers – spinach of all sorts particularly, sorrel and herbs are always favourites. My grove of blood oranges has survived another winter and given up a small crop, so spinach salad with blood oranges, and parsley and kales through lots of savoury dishes.
I always love having access to raw honey from our own hives and our honey ice-cream has become a signature part of a Zin House dessert.
Mostly I'm excited to know that the garden has been well tended and ready to spring into action as it warms up.