Yotam Ottolenghi is coming to Australia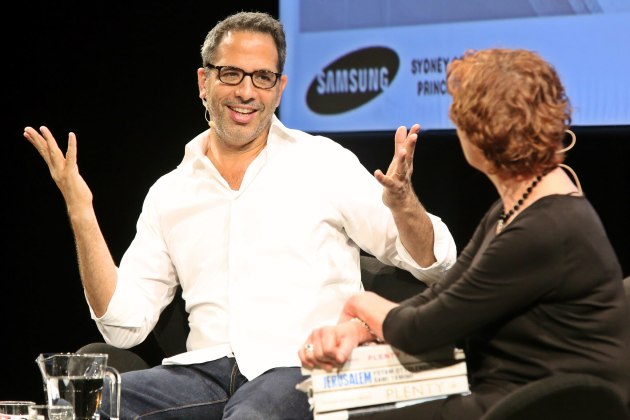 Almost five years after his last visit to the Sydney Opera House, British chef, restaurateur and prolific cookbook author Yotam Ottolenghi is returning for a evening in conversation.
On January 29 2019, Ottolenghi, whom you might know from his best-selling cookbook Plenty, will share insights from his long career as well as his seventh cookbook, Simple.
Simple contains 130 recipes, no doubt featuring many eggplants and Iranian dried limes.
On LA Times review said "These are dishes loaded with flavor, heavy on vegetables and herbs, spices and sauces, and reliant on texture, color and juxtaposition. One of the best dishes in the book is one of cherry tomatoes, charred under the broiler with herbs and spices, then loaded while hot into the center of a mound of chilled thick yogurt and spiked with Urfa chile flakes."
Ottolenghi grew up in Jerusalem but began his chef career in London. Before becoming a chef, he studied photography and journalism and worked as a journalist in Amsterdam. From there he trained at the Cordon Bleu and cut his teeth in Michelin-starred kitchens around London.
Now he has a total of six restaurants in London, four eponymous, while also writing a weekly coloum for the Guardian and a monthly coloum for the New York Times.
Head of Talks and Ideas at Sydney Opera House Edwina Throsby said in a statement, "not only has he been single-handedly responsible for a rejuvenation in the flagging pomegranate molasses market, he has also spearheaded a global movement towards vegetable-based meals. I am salivating at the prospect of hearing my culinary idol reveal the personal stories behind the inspirational recipes."
Presale starts tomorrow, and general ticket sales start 9am December 21. Tickets are $49 + booking fee.
This event will be held in the Sydney Opera House's Concert Hall, at 7pm Tuesday January 29, 2019.