Workshop Kitchen and Coal Bunker Bar opens at Tamworth's Quality Hotel Powerhouse
The Quality Hotel Powerhouse has unveiled its new dining spaces, Workshop Kitchen and Coal Bunker Bar, following a multimillion-dollar rebuild.
The 4.5-star hotel and Tamworth icon first opened 30 years ago when it took over the first power station in the region.
Accordingly, the new look by Paul Kelly Design seeks to channel the building's history while infusing it with urban sophistication.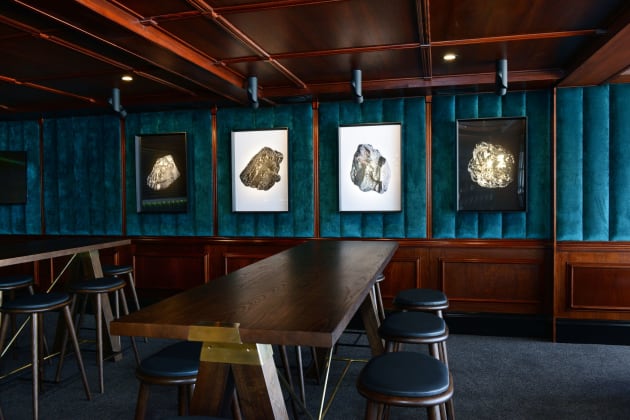 Located adjacent to the revamped foyer, Coal Bunker Bar combines plush emerald velvet with timber panelling.
The drinks menu includes topshelf and local spirits including from Dobson's Distillery (Uralla) and a selection of craft beers and small-town brews from New England Brewing Co.
Of the 184 wines on offering, 42 are by the glass, with a range of styles from regions in Australia including Topper Mountain and Merilba Estate and varietals from around the world.
In comparison, Workshop Kitchen is marked by leather banquette joinery, marble and bespoke cabinetry by Armidale craftsmen Killen Furniture.
At the heart of the venue is a large wood-fired oven and grill. Fired by Pilliga Western red ironbark, it imparts dishes with a rich, smokey flavour.
Quality Hotel Powerhouse general manager, and former executive chef, Ben Davies has created a menu at the Workshop Kitchen that celebrates locally sourced produce including aged beef from Paul Avery's Mountain View Farm (Piallamore) and Jack's Creek at Willow Tree – a two-time winner of the World's Best Steak.
Other menu highlights include Arc-En-Ciel smoked trout with roast winter vegetables, lemon caper dressing and herb salad, New England rack of lamb with freshly foraged trimmings, and toasted marshmallow with caramelised banana, brandy fudge sauce and banoffee ice cream.
For further information, please visit qualityhotelpowerhouse.com.au.