Winners of 2018 Nestlé Golden Chef's Hat Award crowned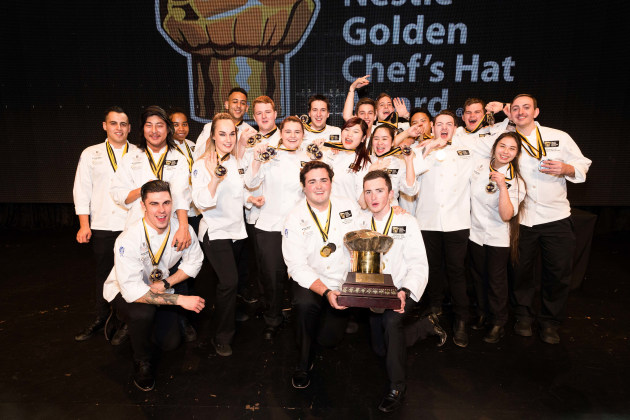 Hats off to NSW Metro chefs, Billy Fox and Matt Wills, for taking out the 2018 Nestlé Golden Chef's Hat Award.
After days of competing at Fine Food Australia, the results were announced at a gala event on Wednesday September 12 with Fox and Wills being the undoubtable winners of this year's competition having been awarded gold medals for their main and dessert courses, silver for their entree course, and securing the Most Creative Use Nestlé Award.
The young chefs' main was of particular highlight for the judges, which paired Australian beef with mushroom-crusted porterhouse and Korean BBQ oxtail with orange and maple carrot, pea tart and scented sauce.
In a statement, the pair said, "We're feeling great, this is so awesome and we couldn't be happier.
"What an incredible achievement, we worked hard for a very long time for this.
"Practice makes perfect and we are proud to be bringing home the big hat trophy."
As part of their prize, the National champions will take part in a career-boosting, culinary trip to Italy.
Executive Chef at Nestlé Professional, Mark Clayton says, "This competition consistently attracts some of the best and brightest young chefs in the culinary industry.
"I'm continually impressed with the passion and creativity they bring to the table.
"Billy and Matt worked hard for this and it showed. Their performance was outstanding."
The Nestlé Golden Chef's Hat Award is Australia's longest running cooking competition for young chefs.
The platform allows young and emerging talent to connect with their peers, learn new skills, and experience new opportunities to advance their careers.