Winner Of The Inaugural Matt Moran Ambassador Prize Announced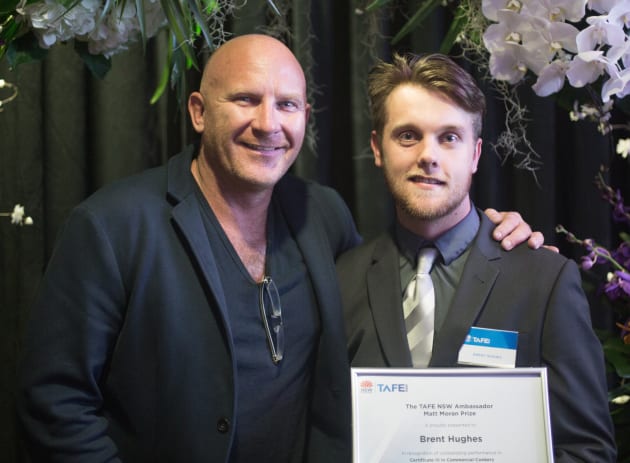 The winner of the inaugural Matt Moran Ambassador Prize at the Northern Sydney Institude, TAFE Ryde, was announced on Tuesday night. Named after the organisation's most famous alumni, the award was established to recognise an outstanding graduate in the commercial cookery field.
The recipient of this year's Matt Moran Ambassador Prize was TAFE graduate, Brent Hughes. He will enjoy prize bounty of $1,500 cash, a signed Matt Moran book, and work experience at Sydney restaurant Aria.
Hughes says, "I'm honoured to receive the Matt Moran Ambassador Prize. It's incredibly encouraging to have my culinary achievements recognised by TAFE and the broader hospitality community, it makes me want to continue to strive to be the best I can be and continue to grow and learn in my industry."
Moran himself studied at TAFE over thirty years ago.
He says, "TAFE taught me the basics of cookery and I think that's a really important point, something my guys look for when they are looking for a young chef. We all talk about trends and how cool things are now but unless you know the basic skills to poach a piece of chicken, cook a piece of fish tills its perfectly cooked or know when a piece of meat is medium rare or well done is so important and that's what TAFE basically did for me."
Hughes has already established his catering business, Spencer and Hughes. And hopes to one day turn it into a restaurant, and down the track "work alongside some great chefs, developing their skills, passion and passing on to them my knowledge and experience."
The Northern Sydney Institute is one of Australia's leading providers of vocational training and tertiary education. With seven campuses across Sydney's Northern metropolitan suburbs, the Northern Sydney Institute enrolls close to 50,000 students annually and offers an extensive range of TAFE courses, higher education degrees, university pathways programs and short courses.