The Women in Foodservice Awards returns to Fine Food Australia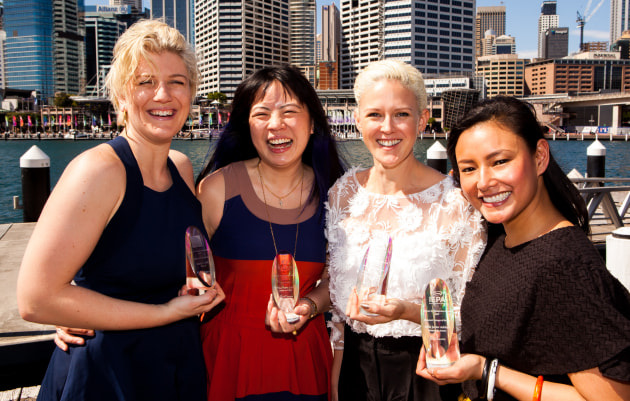 Trade show, Fine Food Australia, returns to Melbourne this September and on the bill is this hotly anticipated Women in Foodservice Charity Event together with the 2018 Women in Foodservice Awards.
Taking over Aerial on Dukes Walk on Wednesday September 12, the brunch function offers attendees a relaxed and intimate atmosphere in which to network with fellow food and beverage colleagues as well as share information and inspiration.
Facilitated by Australian journalist and food author, Dani Valent, the panel discussion will see Victorian industry leaders, Sharlee Gibb (founder of Fully Booked Women), Shannon Martinez (head chef and co-owner of Smith & Daughters), Melissa Leong (television and radio presenter), Karty Barfield (founder of YUME Food), and Jo Barrett (award-winning co-executive chef of Oakridge Wines) discuss their careers and successes.
The panel will be immediately followed by the second annual Women in Foodservice Awards (WIFA). Presented by foodservice magazine and editor Anita Connors, the awards program celebrates the many women of excellence in the Australian foodservice and hospitality industries.
This year, WIFA has expanded from five categories to six, encompassing:
Outstanding Service
Restaurant Manager of the Year
Chef of the Year
Rising Star
Leadership in Foodservice
Legend of the Industry.
To enter or to nominate a worthy colleague, please visit foodservicenews.com.au/wifa.
Minnie Constan, Fine Food Australia event director, is excited for the return of the Women in Foodservice Charity Event.
She says, "Celebrating the women in our industry with the Women in Foodservice Charity Event encapsulates everything that Fine Food Australia is about; learning, discovering, exploring and networking.
"We're thrilled to be celebrating the women in our industry for a fifth year as we continue to drive the discussion of what's important for our industry's development."
All proceeds will go to charities Feed Melbourne (which helps suburban food relief organisations like soup kitchens and community food banks), and Eat Up (a not-for-profit that provides school lunches to students who would otherwise go without).
Fine Food Australia is Australia's largest food and hospitality trade expo. The latest in food, bakery, catering and hospitality equipment, food packaging, beverages, fit-out and design, and retail technology will be on show, as well as educational classes, masterclasses, demonstrations, competitions, and networking opportunities.
The 2018 Women in Foodservice Charity Event takes place on Wednesday September 12, 10am - 1pm. For tickets, please visit o-tix.com/event/womeninfoodservice.