Sydney's Quay restaurant unveils new linen-free look
The Fink Group's flagship restaurant, Quay, is ushering in a new era with executive chef Peter Gilmore as it prepares to reopen on Thursday July 19 following a major, three-month renovation.
Under the multi-million-dollar redesign by Australian architectural firm, Tonkin Zulaikha Greer, Quay has been transformed, offering diners a new dining room, private dining room and kitchen as well as menu.
John Fink, creative director of the Fink Group, says, "People's expectations around fine dining are often minding your Ps and Qs, we want to boldly move into uncharted territory in Australian fine dining by thinking outside the box and considering the dining experience as a sum of its parts."
The new space takes inspiration from Gilmore's nature-inspired approach to cooking.
The former 100-seater has been reduced to 80. And while divided into small, intimate dining sections, the venue maintains its 270º views of Sydney Harbour.
In homage to the original, 1988 restaurant design by George Freedman, the new ceiling draws the eye of visitors up through of wave of bespoke, timber panelling.
The dining room also features stingray-patterned divides, volcanic lava stone detailing and deep, blue carpet referencing the ocean.
But perhaps the biggest change of all is Quay's distinct lack of white, table cloths.
For the very first time in the restaurant's 30-year history, linen is absent from the dining tables. Instead, the focal point are custom-made, sustainable spotted gum tables by Planet Furniture.
To match these pieces, the Fink Group commissioned Australian designer, Adam Goodrum to create 'The Quay Chair' in warm, rich shades of leather and chevron detailing as a nod to the shells of the Sydeny Opera House.
Adorning the walls of the restaurant is the Bronwyn Oliver sculpture, Tide, and the Teamlab animation, Four Seasons, screened in Quay's upstairs event space.
Accompanying the new look is a revamped, dining experience at Quay.
Group general manager of the Fink Group, Jeremy Courmadias says the goal is to provide diners with "a generous dose of humble, personalised hospitality aligned with a sense of understated luxury".
He continues, "There is an association with fine dining that often overwhelms people, as a family business it was important to ensure guests feel comfortable and relaxed in order to enjoy and appreciate the Quay experience."
As part of this, the front of house team of 35 plus will see dedicated managers look after each one of the venue's dining spaces, they include general manager Nadine Stegmeier, restaurant manager Sharon Collins, and staff Ali Pinnington, Anna O'Donnell and Tom Wright.
In addition, each table has been fitted with independently controlled lighting that changes throughout the evening.
"Lighting plays a big role in a dining experience; when you arrive, you want to be able to read the menu," says Fink.
"As the meal progresses so does the lighting, by the end of the night, it's moody and relaxed.
"We have added those luxurious items guests didn't even know they needed."
With changes in the dining room, Gilmore has taken the opportunity to reinvent the Quay menu.
He says, "Wiping the slate clean was a huge challenge, but ultimately very rewarding.
"It gave me the opportunity to revaluate everything from the smallest detail up."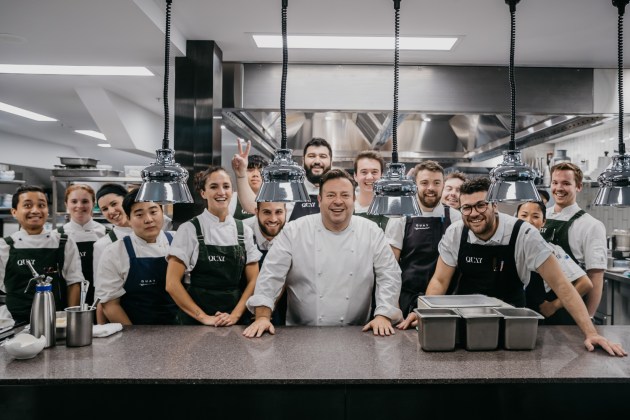 Supported by chef de cuisine, Rob Kabboord, senior sous chefs, Tim Misfud and Troy Crisante, and 35 chefs, Gilmore has crafted a ten-course tasting menu as well as a smaller, six-course menu with a choice of main that will be available Sunday to Thursday for dinner, and Friday to Sunday for lunch.
Upon bespoke ceramics by artists Paul Davies  and Jacqueline Clayton from Red shed Studio Jam, and Malcom Greenwood and Ben Richardson, new dishes served include sand crab, kombu, squid, and Wakefield cabbage; red-speckled peas with miso and anchovy; and oysters with oyster cream, oyster crackling and Ossetra caviar.
Iconic dessert, the 'Snow Egg', has been retired, and replaced with 'White Coral'.
Gilmore says, "This dish took the longest to evolve and get right ... The dish is a very light white chocolate ganache that has been super aerated under vacuum and then frozen with liquid nitrogen.
"The effect is a light, porous structure that resembles an organic piece of white coral.
"This is served on a feijoa ice cream with a coconut cream.
"The white coral is shattered with a spoon by the diner and the flavours of feijoa, coconut and white chocolate harmonise in a light and refreshing yet intense way,"
Head Sommelier, Shanteh Wong, together with assistant head sommelier, Seamus Brandt, and newly appointed group wine director, Amanda Yallop, have created a 500+ wine list that will be updated weekly.
In addition, the Quay drinks program encompasses a 20-strong cocktail list by Taka Shino.
As Courmadias says, the new restaurant offering is "personalised, it's about reading the guest and individualising the service accordingly to how they want to experience Quay."
Quay reopens on July 19 for dinner. Service resumes for lunch on August 3.
For further information, please visit quay.com.au.