Stokehouse St Kilda Relaunch Announced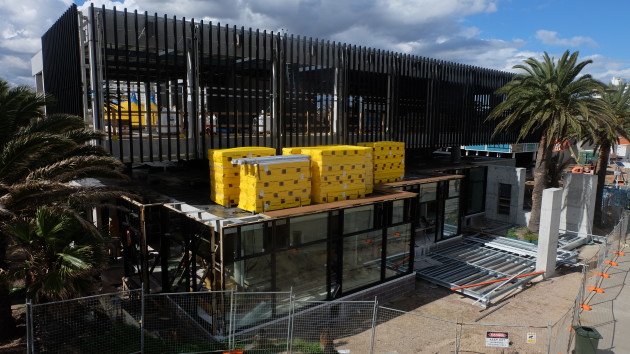 The Van Haandel Group has revealed the news that their much-loved beach restaurant, Stokehouse St Kilda, is gearing up to relaunch in December. The venue was devastated by fire back in 2014.
The new Stokehouse St Kilda building has been designed by the renowned architect Robert Simeoni, with interiors by the much respected hospitality experts Pascale Gomes-McNabb (first floor) and George Livisiannis (ground floor – Pontoon & Paper Fish).
The building is also the first Design and Built 5 Star Green star building of its type. To achieve this milestone a significant amount of time had to be added to the rebuild project, as well as an additional injection of $1.6m. However, Frank van Haandel could not be prouder of this achievement. "This building design is on a world scale and there is nothing like it."
He continues, "The geothermal technology alone includes 8.5 kilometres of continuous copper piping, down to 80metres below the building – those works added 6 months. It is daunting now to reflect on the work which has gone into achieving our 5 stars – however the results are incredibly exciting."
Another design innovation of the new Stokehouse building is the fact that the entire ground floor is buried under a sand dune with a 1.6m gap between the top of the sand dune and the Stokehouse Restaurant. This means that the venue appears to be it is floating on the first floor. Access to Stokehouse will be through the sand dune adding to the sense of theatre.
Van Haandel says, "We want people to walk in and still have that same Stokehouse feeling – the laid back charm perfect for a relaxed lunch or dinner, overlooking the water, with the same great atmosphere, welcome feel and generosity, We also want to pay the utmost respect to our beachside location, and as part of that we have managed to source reclaimed timber from the fire breaks around the Dandenongs for use on our floors and walls."
The restaurant will seat 130 guests for lunch and dinner, and includes a new 12.5m oval shaped bar which straddles the restaurant and the outdoor terrace. This area will accommodate up 120 guests, with an all-day bar menu.
Taking the reins as head chef is Queensland Young Chef of the Year in 2015 Ollie Hansford, who has previously worked at Stokehouse Q and Stokehouse City. He will work closely with Executive Chef Richard Ousby to bring Stokehouse back to life with a fresh, predominantly seafood driven menu.
Hansford says, "I am very excited to be back in the Group, and in such a prestigious restaurant as Stokehouse St Kilda. I am very much looking forward to putting my head down and really pushing forward".
Stokehouse St Kilda opens 6 December 2016. For further information, please visit stokehouse.com.au.