St Kilda's Hotel Esplanade reopens after 18-month restoration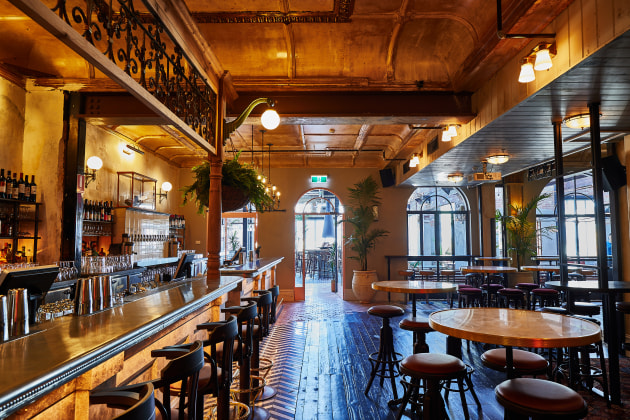 Overlooking the St Kilda foreshore, the iconic Hotel Esplanade (The Espy) reopens Friday November 23 following an extensive, 18-month long renovation by hospitality group, Sand Hill Road.
The hotelier company bought The Espy back in May 2017 and has spent the next 18 months restoring the waterfront venue. 
"The Espy has always been our ultimate pub dream. But it's also an awesome responsibility. Every day, we've uncovered layers and layers of The Espy's history that have absolutely blown us away", says Doug Maskiell, co-founder of Sand Hill Road.
"We know we'll never truly own The Espy - that title belongs to the many thousands of people who have walked its staircases before us, and the many more thousands still to come."
The updated hotel is a sprawling space that features 12 bars, two restaurants and three stages, including The Basement stage, Public Bar,  Main Bar, Garden Terrace, Gershwin Room, Espy Kitchen and Mya Tiger, a new Cantonese restaurant and cocktail bar, which launches in early December.
"There's something about this hotel that captures the imagination like no other," says Sand Hill Road co-founder, Tom Birch.
"These are the things we determined to keep at the forefront of our minds as we conceived the look, feel and spaces of the new Espy – age, grandeur, history, arts – and respect for what it took to keep her alive all these years."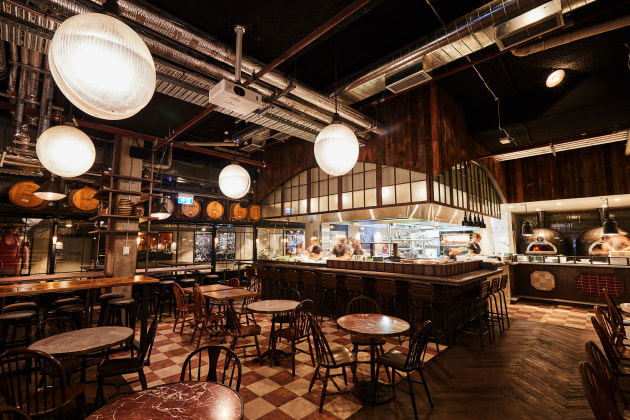 Accordingly, Sand Hill Road enlisted Technē Architecture + Interior Design, stylist Eleisha Gray and Perth artist Desmond Sweeney (8 Foot Walls) to bring to life the history, stories and personalities that frequented the venue, one of whom was Alfred Felton. The Espy's most notable resident, Felton was a wealthy entrepreneur and philanthropist who lived on the top floor of hotel before his death in 1904.
As such, on top of The Espy's 140-year-old staircase is 'The Ghost of Alfred Felton', a series of late 19th century rooms dedicated to Felton's three great passions - knowledge, arts and science. 
Other dedicated spaces include the Espy Kitchen, a cellar door-inspired dining area adorned with wine barrels, the 1970s-inspired Studio Bar with a podcast studio, which patrons can book to record podcasts, and a 120-person mezzanine-level function room with views over St Kilda pier. 
Managing the menu and the 60-strong kitchen is executive chef Ash Hicks. And for the menu he has put together a selection of charcoal grills, wood-fired pizza and rotisserie meals.
Highlights include The Espy crispy bug roll; spiced lamb with flatbread and yoghurt dressing; slow-roasted wagyu; and baby snapper with chips and salad.
On the weekends, The Espy will also offer brunch, with such dishes as the open crab omelette with spring onion and tomato; green nourish bowl with scrambled tofu and avocado; and BBQ mushroom and haloumi roll.
For the drinks list, Kevin Peters, Sand Hill Road group bars manager, and Matt Skinner, group sommelier, have sought inspiration from their beach-front location together with a desire to showcase local brewers and winemakers. 
"Local craft beers, such as the stunningly successful Balter XPA, will sit alongside unpasteurised Carlton Draught delivered direct from the bright tank in Abbottsford," says Peters.
"Beers and ciders have been sourced both locally and globally to provide for the full range of palates The Espy lives to serve."
Cocktails include the 'Sun Sparkle Sour' with Absolut vanilla vodkar, passionfruit, lemon, egg white and sparkling wine, and '500 Days of Summer' with Four Pillars Sticky Carpet Gin, Fiorente elderflower, lime, strawberry, mint, and ginger beer.
The pair have also spent six months developing an aged-barrel program with spirits and cocktails made on-site in 28 litre custom-made barrels. One such cocktail is The Espy negroni made in American oak wood barrels, before being treated with Tawny Port for two months, aged for four weeks and bottled on-site.
The Espy will also renew its long-standing, live music tradition with its three stages catering various musical tastes.
Maskiell says, "We want The Espy to stand as it has, for another 140 years, watching every sunset come and go ... Our excitement for St Kilda lies in its own surge to retake the mantle of Melbourne's true beachside playground.
"It's what it's always been, and now always will be. St Kilda's restaurants, cafes, bars, boats, running tracks and tramways are the stuff of any city's dreams. We're excited that the St Kilda spark has been rekindled - eyes wide open and ready to play."
For further information, please visit hotelesplanade.com.au.