S.Pellegrino Young Chef Pacific Region winners crowned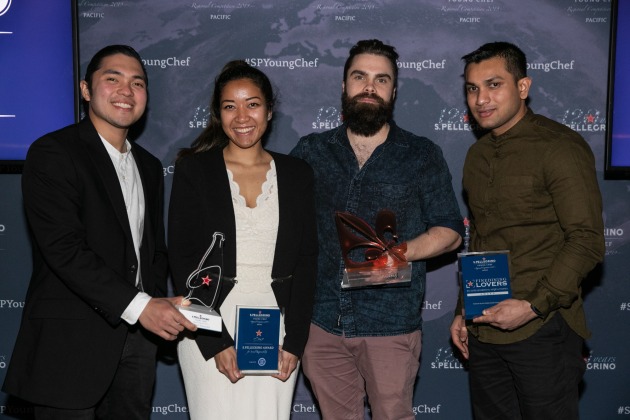 Jose Lorenzo Morales, commis chef at Lûmé in Melbourne, has been announced as the S.Pellegrino Young Chef Pacific Region winner, and will be participating in the Grand Finale in Milan May 8 and 9, 2020. 
At the final cook-off on Monday August 26, Morales won the judges over with his signature dish, Analogy, of roasted lechón pork belly, shrimp bogoong paste, pandan rice cracker, latik caramel, and tamarind powder.
"What encouraged me to pursue this competition was the fact that it was substantially about using culture and humanity as our vessel to move forward and prevent the earth from its endangering concerns," he said.
To help Morales on his journey to the Grand Finale in Milan, he has chosen John Rivera, head chef Lûmé and Young Chef Pacific Region Winner 2017, as a mentor to steer their progress towards the final.
All of the winners of the additional three awards will also be invited to attend the Grand Finale as guests, affording them another opportunity to network with some of the biggest names in gastronomy from around the globe.
At the Pacific Region Semi-Final, the Young Chef contestants had five hours to complete their dish, which were then presented to the judging panel, a line-up of five of the finest culinary names in the country - Peter Gilmore, executive chef at Quay (Sydney); Jock Zonfrillo, chef and owner at Restaurant Orana and Bistro Blackwood (Adelaide); Danielle Alvarez, head chef at Fred's (Sydney); Dan Hunter, chef and owner at Brae Restaurant (Victoria); and Christine Manfield (Sydney), a leader in the hospitality industry.
The 2019 Pacific Region competition saw 185 applications, 30 of whom were women. While this number is low, it is triple the number who applied in the previous year.
In a first for the Pacific Region, three female Young Chefs got behind the pans at the 2019 cook-off - Arum Yun, sous chef, Naum, Melbourne; Kezia Kristel, chef de partie, Icebergs Dining Room and Bar, Sydney (and winner of the S.Pellegrino Award for Social Responsibility); and Giada Grilli, chef de partie, Lillius Restaurant, Auckland, New Zealand.
This year the following three awards have been introduced to the competition to complement the existing S.Pellegrino Young Chef award:
Acqua Panna Award for Connection in Gastronomy
Voted for by the Regional Mentors, the winner of this award was required to produce a dish that represents diversity and recognises the beauty of different cultures coming together to create something fresh and exciting.
WINNER: James Bond-Kennedy – sous chef, Restaurant IGNI (South Geelong, VIC): Great Ocean Duck, And Its Seasonal Feed! MENTOR: Greg Clarke, owner and head farmer of Great Ocean Road Duck
Fine Dining Lovers Food for Thought Award
This award was given to the young chef who best represents their personal belief within their dish.
WINNER: Abhijit Dey – sous chef, SO Auckland (Auckland): Horopito Cured Wild Venison Cooked over Kanuka Wood, Karamu Berries and Feijoa Cream with Celeriac and Melson Valley Saffron Reduction
MENTOR: Marc de Passorio, SO Auckland
S.Pellegrino Award for Social Responsibility
This dish represents the principle that that food is best when it is the result of sustainable practices.
WINNER: Kezia Kristel – chef de partie, Icebergs Dining Room and Bar (Sydney): Experiencing Mushrooms in Flavours and Savoury Carrot Tart
MENTOR : Karen Doyle, Le Cordon Bleu
To stay update with announcements and news ahead of the Grand Finale in May 2020, visit the S.Pellegrino Young Chef website.