Ōra King reveals Australian chef finalists for the Sixth Annual Awards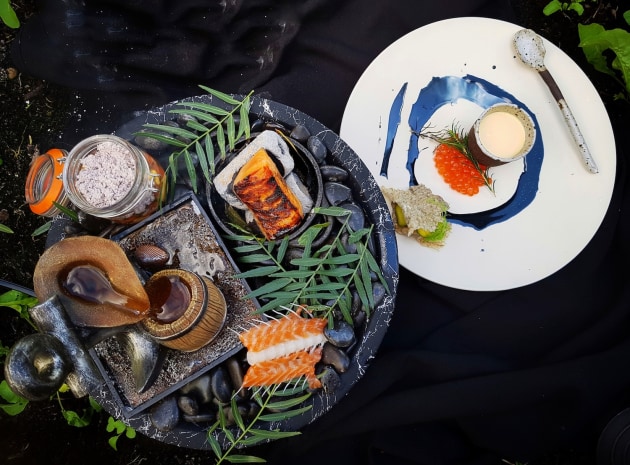 New Zealand salmon producer, Ōra King, has named the three Australian finalists vying for the chance to win the Best Ōra King Dish in Australia Award ahead of the October awards program.
63 Australian entrants have been whittled down to Jesse McTavish (North Bondi Fish, Sydney), Michael Demagistris (Polperro Winery Restaurant, Red Hill) and 2017 award-winner Christopher Bonello (MPD Steak Kitchen, Melbourne) for their technical skill and interpretation of this year's theme, 'inspired by art'.
For the competition, McTavish sought inspiration from 'Mungil' by indigenous artist Veronica Lulu Fatima, creating hanging fish with cured Ōra king salmon, black garlic, red pepper concentrate, kimchi paste, turmeric mayo, blood orange, mandarin and miso.
With a nod to 'Spiral Jetty' by Robert Smithson, Demagistris' finalist dish is a cannelloni of Ōra King salmon, bisque, burnt hay, Red Hill truffle, finger lime, and smoked caviar.
And Bonello's Ōra King in 5D with marinated salmon fillet, salmon bones and kombu consommé, cured belly, salmon tartare, salmon cheek sandwich and tea tree smoked salmon roe looked to 'Must Take Stock of Myself' by Tom Samek for inspiration.
The three finalist dishes will be judged by New Zealand-born and Sydney-based chef and consultant Justin North.
"The Ōras have always provided a platform for Australian chefs to showcase their expertise," says New Zealand King Salmon GM Marketing Jemma McCowan.
"The entire process and experience embody creativity and we've seen some truly amazing Ōra King salmon dishes."
During the awards trip, finalists and ambassadors from Australia, Japan, North America and New Zealand will visit landmarks Te Waikoropupu Springs, Kahurangi Ranges and the Marlborough Sounds as well as New Zealand King Salmon's facilities.
The Ōra King Awards take place on October 16 in Nelson, New Zealand.