Queensland Chef of the Year crowns Marcus Hillier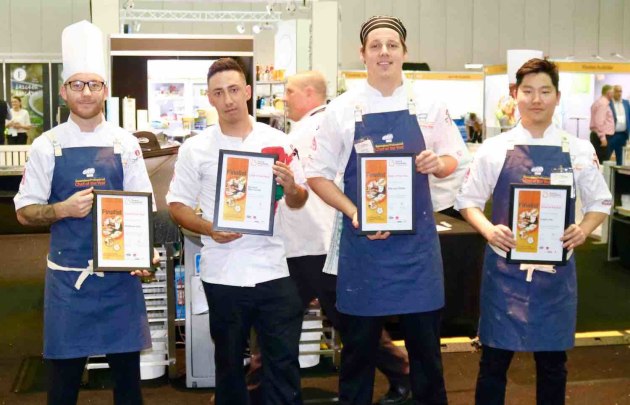 The inaugural Queensland Chef of the Year competition took place this week at trade show, Food & Hospitality Queensland, and of the 28 chefs who competed Factory 51's Marcus Hillier was named the standout winner.
Running over two days and seven heats, the competition whittled down to a close grand final between chefs Hillier, Mathew Lee, Norbert Marczinek and Ungki Lee.
"Marcus Hillier was a very deserving winner," says head judge Karen Doyle (Australian Culinary Federation).
"He used his time effectively to showcase a number of technical skills, plus flair and passion, on his final dishes."
The Queensland Chef of the Year grand final required the four chefs put together two dishes in one hour using pork loin chop, pork tenderloin, pork cheek and pigs' ears.
The competition also featured a mystery box with a selection of vegetables and herbs. 
For his two dishes, Hillier prepared an Asian-braised pork cheek with wild mushrooms, peas, leek and crispy pigs' ears for his first dish, and a prosciutto-wrapped baked tenderloin with pan-fried loin chop, potato fondant, goat's cheese and pickled beetroot.
"Winning felt awesome as I wasn't expecting it, I was up against so much talent," says Hillier says.
"Having never entered a cooking competition before, I couldn't believe I'd won."
Born and raised in regional Victoria, Hillier trained in Bendigo and Melbourne after which he spent eight years working in Tasmania, Bendigo, Melbourne and Mount Hotham.
Moving to Brisbane, he soon became the sous chef of Coorparoo's Factory 51.
Joining Doyle on the judging team for Queensland Chef of the Year was consultant chef Paul Rifkin and Shane Keighley (Big Chef Little Chef), and special guest judge and former Bocuse d'Or competitor Dan Arnold, who has recently opened Restaurant Dan Arnold in Brisbane.
Each of the grand finalists walked away with the Unox LineMiss Arianna Oven they used in the competition.
In addition, as winner Hillier received $2,500 cash, a hamper from Australian Pork, a trip to Melbourne next year to be among the finalists in the national, Australian Professional Chef of the Year competition, and a Mini MP160VV stick blender from Robot Coupe.
The Australian Professional Chef of the Year will take place at Foodservice Australia at Melbourne Convention & Exhibition Centre from June 23-25, 2019. Entries will open later this year.
For more information, please visit www.foodandhospitality.com.au.