Paperbark team opens new plant-based pasta bar in Bondi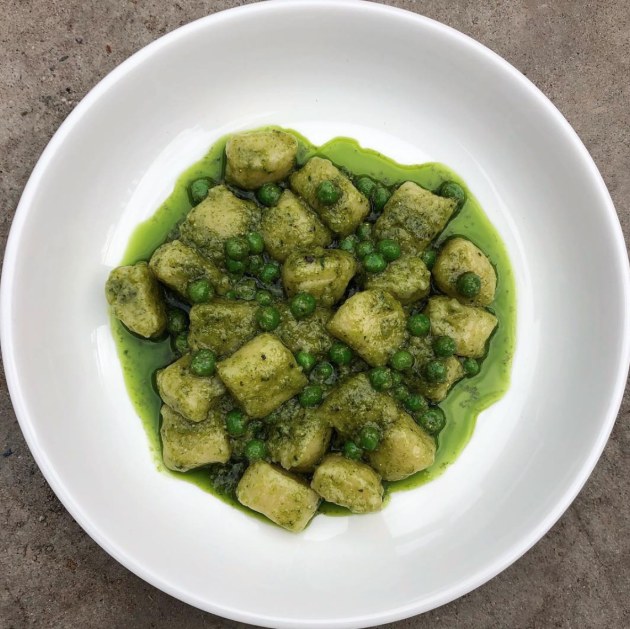 The duo behind plant-based high-end diner Paperbark in Sydney's Waterloo have opened a second venue.
Going more casual this time, Grace Watson and Joe Pagliaro have opened Peppe's, a 40-seat all-vegan pasta bar in Bondi.
The simple menu is scrawled on a blackboard and changes daily. Like Paperbark, whose food won praise when it opened last year for its meat-free finesse and flare, the menu at Peppe's celebrates vegetables rather than disguising them. Alongside the pasta are seasonal salads and antipasti like arancini. The handmade pastas and gnocchi are simple, with a red (tomato), green (pesto) and white (prochini and cauliflower) sauce option, plus a daily special.
The very-short eight-bottle wine list focuses on natural, interesting drops from Australia and Italy. There's also $15 classic Italian cocktails.
The aim here is to keep it cheap and cheerful, Pagliaro said in an interview with Broadsheet. "People are sick of spending $30 on a bowl of pasta. We're not trying to make the maximum profit. If you're gunning for profit, it's usually at the expense of staff enjoyment. You have high stress levels; suppliers are being squeezed. We work backwards from what's a fun environment that also makes money."
With the hopes it will become a neighbourhood hangout, the compact restaurant is only open for dinner and does not take reservations.