Paddington Welcomes Tequila Mockingbird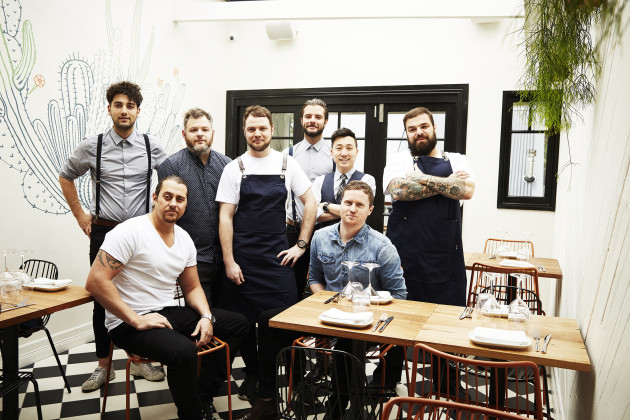 Latin American-inspired restaurant Tequila Mockingbird launched Wednesday night in the inner Sydney suburb of Paddington. Co-owners restauranteur Michael Fegent (formerly Sake restaurants) and executive chef Regan Porteous (Riley Street Garage, formerly Toko, Zuma, Maze) promise a celebration of flavours from Mexico through to Argentina.
Situated just off the iconic Five Ways, 110-seating Tequila Mockingbird takes over a lovingly restored three-storey terrace.
The concept behind the split-level restaurant came to Fegent when he was travelling through the Americas. It was there that he discovered chef Gabriel Valenti at the renowned Peruvian-Japanese eatery Osaka in Buenos Aires. It was not long also that Matt Taylor-Watkins (ex-Bentley Restaurant and Monopole) also joined the team.
Porteous says, "It was really important to all of us that the menu was authentic so we've spent a long time carefully sourcing the right ingredients locally wherever possible, from Mexican turnips, Peruvian potatoes and peppers. Incredibly, we've been able to find around 90 percent of our produce locally, which is really exciting."
Each seasonal, share-style menu relishes authentic flavours and techniques, while exploring ideas from various regions of Latin America. The winter current menu nods to Peru, Argentina and Uruguay. It starts off with 'Raw', with such dishes as the white fish tiradito with jicama and corn textures, mushroom ceviche with plantain crisps, and kangaroo tartare with black bean and nachos. 'Streets' includes alpaca and mozzarella empanadas, and celeriac soft-shell crab taco.
Argentinian flavours and wood-fired traditions are front and centre in the 'Flame' section of the menu. There are five different grilled meats, including pork feather blade 'pluma', twice-cooked spatchcock, BBQ lamb shoulder, wagyu tri tip, and a dry aged rib eye the bone, served with traditional salsa criola and aged chimmichurri.
Valenti says, "This food is a real journey through South and Central America with dishes you would find on the streets of Peru through to dishes like the kangaroo tartare nachos that you will never be able to find anywhere else. It is what we like to say in Peru 'pichicata' or the ultimate flavour hit!"
General manager Reuvin Lim (ex-Sake Restaurant) manages front-of-house, with bar managers Mark Crawford and Luca Bielli (both formerly Sake Restaurants) looking after the downstairs and rooftop bars. 32 tequilas and 10 mezcals are on the drinks menu served both straight or in a cocktail.

Tequile Mockbird is open Wednesday to Sundays.
For further information, please visit their website.