Overheard at the World's 50 Best award ceremony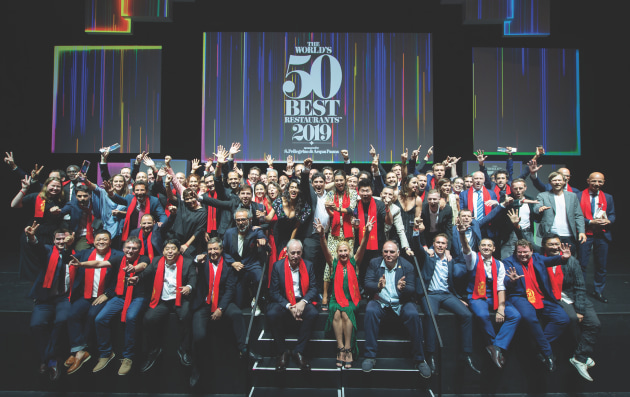 Jill Dupleix travelled to sizzling Singapore for the World's 50 Best Restaurant Awards 2019 and, in the biggest annual gathering of top chefs, took notes. Chefs share their thoughts on staff training, self-development, leadership, kitchen culture and the future of the global hospitality industry.
Eric Ripert of Le Bernardin, New York, on a positive kitchen culture: "The most positive change in the industry has been the culture of the kitchen and the dining room. You can't yell at someone for yelling. Anger is not a quality; anger is a weakness. A cook who has fear will never realise his or her potential."
Massimo Bottura of Osteria Francescana, Modena, on staff training: "We try to teach our apprentices how to think, not just how to cook. We ask them 'who are you?' and they have to explain themselves to me with their food."
Tetsuya Wakuda of Singapore's Waku Ghin and Sydney's Tetsuya's, on kitchen culture: "I don't like the old ways. It was nasty. It was brutal. Be nice to each other. Say please and thank you."
Daniela Soto-Innes of Cosme, New York, on hiring staff (Cosme has over 50 per cent female staff, with a special focus on immigrants): "We don't hire 'females', we don't hire 'old people', we just hire people. We hire talent."
Peter Goossens of Belgium's three-Michelin star restaurant, Hof Van Cleve, on the true role of a chef: "I am not a florist, a farmer or a fisherman, I am a cook. We have to add value to what our producers bring to us – that's our job. We make dashi, for instance, from the bones of smoked eel. Whatever they produce, we must elevate it."
Ana Ros of Hisa Franko, Slovenia, on leadership: "It's not about asking others how they are, it's about taking care of yourself. I am very disciplined with myself, and take one hour for myself every day. If you don't treat yourself well, how can you treat others well? It is impossible."
Danny Yip of the Chairman, Hong Kong, on how to be both modern and traditional: "Every year we go into a little village in China and talk to the elderly people about forgotten ingredients, like preserving lemons in salt for 20 years, or pickling little Chinese roses with sugar for seven years and serving them with tofu. A chef can't cook that level of flavour, it's only time that can do that. So our food is traditional, but people say they have never tried anything like it before."
Bertrand Grebaut of Septime, Paris, on the need to look beyond fine dining: "The restaurants that people vote for on the World's 50 Best are 95 per cent fine-dining restaurants, not restaurants like ours, which are small [40 seats] and casual. It should be more mixed. In France, people are looking for more casual places, like Rigmarole for French-slash-Japanese yakitori, and Le Serran, one of the best neo-bistros in Paris."
Mathias and Thomas Suhring of modern German restaurant Suhring, Bangkok, on getting back to your roots: "With globalisation, cuisines are starting to merge with one another. We used to cook European food with Thai influences – it tasted good, but there was no soul. Now we cook the German food of our heritage but elevate the elements to a gastronomic level. It's important for chefs to focus on their roots and save their traditions for the next generation."
Jose Andres, US-based Spanish chef and founder of Think Food Group, on his work with non-profit World Central Kitchen, which provides meals in the wake of natural disasters: "At the moment we have people trying to build walls of exclusion. Immigrants like me need to make sure we are a voice for inclusion. We can change the world, one plate of food at a time."
Mauro Colagreco, Argentine-Italian chef of Mirazur on the French Riviera, on winning the number one spot in this year's 50 Best list: "I would like to express to all the chefs in the world, my love, my gratitude and my admiration, because we need to love one another. We need to share, and to go further than borders and barriers."
This article was first published in foodservice's August 2019 issue. Read the digital magazine here.