One of the world's most illustrious cooking competitions is now seeking Australian applicants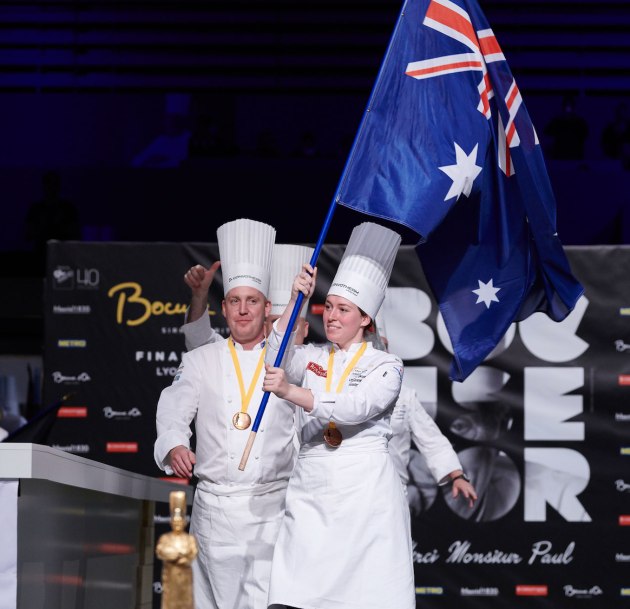 Held every two years in Lyon, France, the Bocuse d'Or Grand Finale tests chefs' creativity, stamina, skill and technique. Each of the 24 teams, comprising a chef and a commis, must create two courses of exceptional food using mandatory ingredients, in five and half hours. They are judged by a panel of chefs, including the likes of Thomas Keller and Jérôme Bocuse, son of the competition's founder Paul Bocuse.
But to get there, chefs need to succeed in their home countries. Now the Australian selection committee is seeking applications from chefs who wish to be the next candidate. 
The Australian Selection competition will be held at Le Cordon Bleu Melbourne on Tuesday 17 September, and entries are now open.
"The person we are looking for has to be more than a highly skilled chef," explains Tom Milligan, President of Bocuse d'Or Australia. "He or she must have the tenacity and the drive to succeed, the ability to create masterpieces under immense pressure, and the support of their employer and family to train and compete at events in Asia and Europe."
Team Coach Scott Pickett says Australia is always highly regarded at Bocuse d'Or, despite the competition being relatively unknown at home. 
"Michael was a brilliant competitor and very ably assisted by commis Laura Skvor," he says. "They placed 14th out of the 24 teams in Lyon this year – when you consider the massive resources behind some of the other teams, this was a fantastic result."
Pickett and Milligan have both represented Australia themselves, and other alumni include George Calombaris, Joseph Vargetto, Luke Croston, Ross Howell, Russell Clarke, Shannon Kellam, and Dan Arnold, who competed in 2017 and placed eighth, Australia's best ever result.
Chefs interested in being the next Australian candidate for Bocuse d'Or can apply online now at www.bocusedoraustralia.com.au. Entries close 30 June.