One Melbourne restaurant is charging $100 for hummus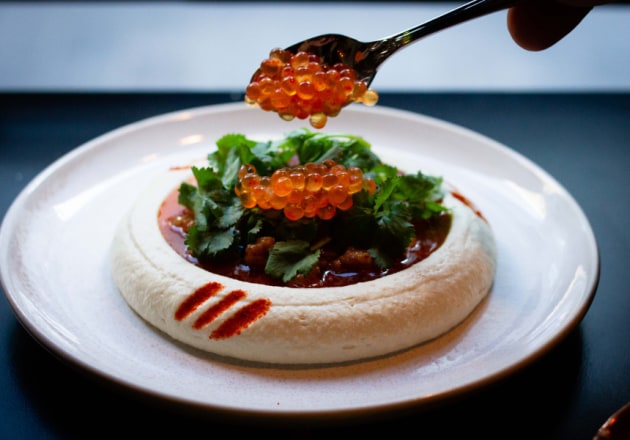 Melbourne's contemporary Middle-Eastern-leaning restaurant Bar Saracen is pulling out the big guns for International Hummus Day next week by serving the dip with a hundred dollar price tag.
The classic chickpea mixture is blended with shaved black truffles, and topped with a pool of minced marron cooked in saffron butter. It's all crowned with Yarra Valley salmon roe and served with Egyptian pita, which head chef Tom Sarafian makes every day. 
Bar Saracen's hummus has been on the menu since owner Joseph Abboud, also Rumi, opened the CBD venue last year. The dish began with a traditional Lebanese topping of spiced minced lamb, which then evolved to minced prawns with onions and paprika.
Abboud says this iteration is simply the next step. He also told Broadsheet it was a chance for the chefs to experiment, rather than creating something just to be expensive.
"You could have taken the piss and put gold leaf in it, but it had no place. Everything we've done with this dish goes together," says Abboud.
Marron is a species of freshwater yabby, which is only found in Western Australia. As the population is limited, most marron is farmed now. The average meat to shell ratio is also 40 per cent, lower than other larger crustaceans, making the product very expensive. Truffles are also not quite in season yet in Victoria, but normally cost $2,000 per kilo. Yarra Valley hand-milked roe retails for about $40 for 100 grams (less for wholesale). 10 grams of saffron can cost a minimum of $20. 
Only time will tell if the price hike will pay off. But with so much media coverage and limited stock, it looks promising. 
The Hundred Dollar Hummus will be available from Tuesday May 14 to Saturday May 18 at Bar Saracen.