Nutrient-powered broccoli lattes head to Aussie cafes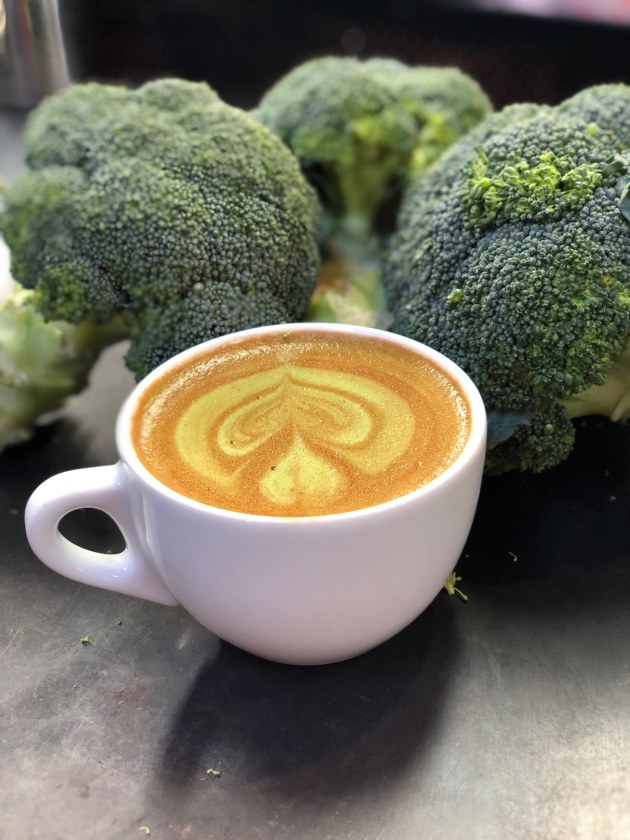 Move over turmeric, avocado and blue algae lattes, the latest trend to hit the Australian coffee scene is here and it's broccoli charged.
Aimed at helping up the vegetable intake of everyday Australians, the green, nutrient-rich powder was developed by Australia's national science agency, CSIRO, and Hort Innovation with one serve of broccoli in every two tablespoons.
Mornington's Common Folk Cafe was an early adopter of the product, adding a broccoli latte to the coffee menu.
However the product need not be limited to coffee, and can be used in smoothies, soups, and baking.
Hort Innovation chief executive John Lloyd says, "With a rising trend in healthy eating across the board, Australian growers are always looking at ways to diversify their products and cut waste while meeting consumer demand."
But despite a recent growth in wellness and a healthy approach to food, Australian diets are overall poor.
Lloyd says, "Research shows the average Australian is still not eating the recommended daily intake of vegetables a day, and options such as broccoli powder will help address this."
Lead researcher, CSIRO's Dr Mary Ann Augustin, says the team decided to focus on broccoli for a powder as the vegetable is high in protein, fibre, and health-promoting bioactive phytochemicals.
"The powders are an option for farmers who want to produce value-added vegetable ingredients for the lucrative functional food markets," she says.
"The broccoli powder has already been used for the production of extruded snacks with high vegetable content.
"Prototype extruded snacks with 20-100 per cent vegetable content were displayed during National Science Week at the Queen Victoria Market last year and were well-received by parents and even by kids."
The CSIRO team and Hort Innovation are discussing potential commercial applications with produce growers and grower groups across Australia who are interested in getting the powder on the market.