Nestlé's Golden Chef's Hat Award reveals finalists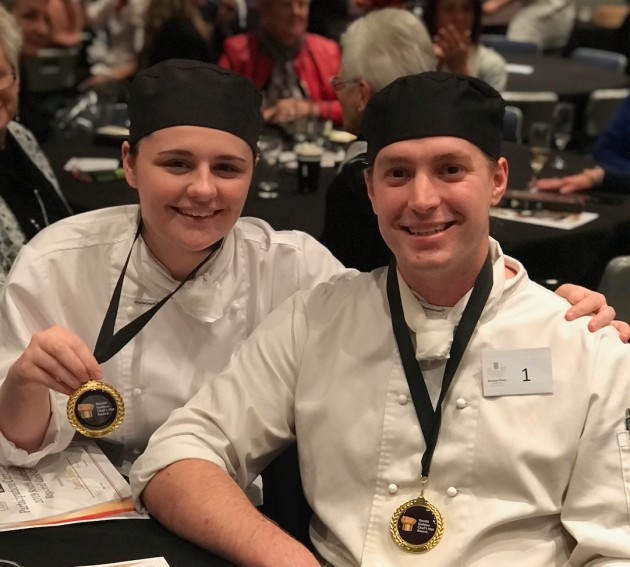 The finalists for Nestlé's Golden Chef's Hat Award have been announced.
Ten teams of two will now go on to the national final next month, where they will cook off in purpose built commercial kitchens at Fine Food Australia on September 11.  
The 2019 national winning team will be awarded a $15,000 culinary trip to North America.
Harrison Caruana and Stephanie Goetz will cook for Victoria, and Sarah Jones and Adrian Holds will represent South Australia.
NSW Regional finalists include Siobhan McCowat and Owen Cootes, with Giles Gabutina and Alessio Nogarotto cooking for for NSW Metro.
Alex Stemmler and Liberty Smith will cook for Queensland Regional, with John Jamieson and Ryan Woodward representing Queensland Metro.
Felicia Mardo and Shabrina Putri Amalia make up the ACT team, and Nattawat Thiengdee and Te Ananui Heta will represent Western Australia.
Jarrod Everett and Megan Bell will cook for the Northern Territory, with Adam Lockhart and Jomarie Gealon representing Tasmania.
South Australia's third-year apprentice chefs Jones, 19, from the National Wine Library and Holds, 22, from the Adelaide Oval impressed judges with their menu to be awarded gold during the heats. At just 19 years old, young chef Sarah Jones is already making her mark as a rising star to watch, having made it to the finals in 2018.
"This award is about pushing yourself to be a better chef. It offers young talent the opportunity to really accelerate their culinary journey," says Nestlé Professional head judge Mark Clayton.