Nestlé Golden Chefs' Hat announces 2018 finalists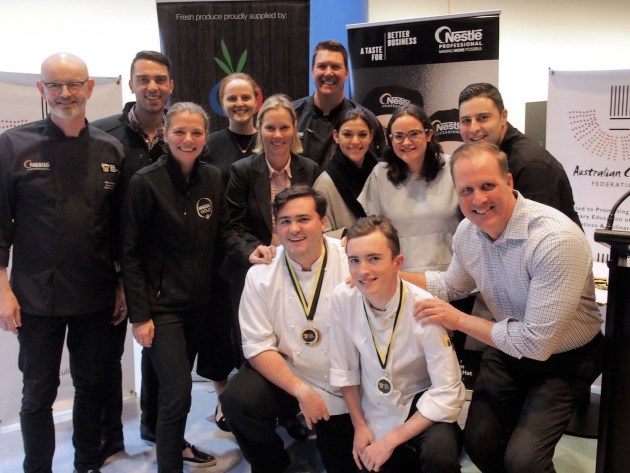 Long-running, culinary competition for young chefs, Nestlé Golden Chefs' Hat, has found its ten, finalist teams for this year's national final. 
Set to take place at Fine Food Australia in September, the two-chef teams will be pitted against each other with a culinary trip to Italy up for grabs. 
The national finalists are a mix of Nestlé Golden Chefs' Hat-veterans and first-timers, like the NSW Metro team made up third-time national finalist, Billy Fox, new comer Matt Wills. 
"This was my first Nestlé Golden Chef's Hat and what an experience," says Wills.
"I'm feeling awesome and can't believe we're in the finals. We are going to give it everything."
Similarly, Canberra's Nicole Samson together with teammate Felicia Mardo is thrilled to have an opportunity to compete again.
"I've entered the last two years and was keen to enter again this year – good thing I did, I'm living proof third times a charm! I think teamwork will be key to our success at finals." 
Executive chef at Nestlé Professional, Mark Clayton says the competition is "about pushing yourself to become a better chef and committing to your culinary journey. A successful team going into the final will be the one that goes out there and puts one-hundred percent into what they're doing."
The national finalists for the 2018 Nestlé Golden Chefs' Hat Award:
NSW Regional - Liam Gray and George Mirosevich
QLD Metro - Eve Sheraton and Sammuel Lee
QLD Regional - Jayden Osbourne and Kelvin Anderson
NSW Metro - Billy Fox and Matt Wills
South Australia - Sarah Jones and Ben Rogers
Victoria - Jemima Kudumba and Ryan Cosentino
Australian Capital Territory - Felicia Mardo and Nicole Samson
Western Australia - Jason Nicholas and Lara Kirby
Northern Territory - Jarrod Everett and Connor Hakes
Tasmania - Clinton Richardson and Jomarie Gealon