Melbourne institution Cafe Di Stasio opens a second fine diner, 30 years on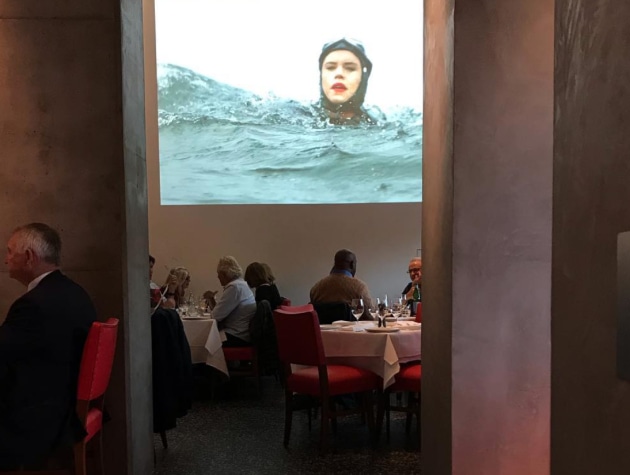 Cafe Di Stasio in Melbourne's St Kilda has, over the last 30 years, waved the flag for Italian fine dining,
Now, a second Di Stasio has opened in the CBD.
Owner Rinaldo (Ronnie) Di Stasio began his hospitality career in 1985 when he opened Rosati on Flinders Lane. Not long after came Cafe Di Stasio and Bar Di Stasio.
Like the St Kilda outpost, at Di Stasio Citta there are white table cloths and the waiter are dressed in white suits with black bowties, yes, but the feel is modern, with art projected onto the Brutalist raw concrete walls in the gaping dining room.
And the menu is in keeping with the hearty yet playful food Ronnie is known for.
The famed After School Sandwich of crumbed veal inside white bread (crusts cut off) wrapped in foil has made the journey to the new restaurant, along with a broadsheet-size menu of bold Italian flavours.
To start, there's smoked eel arancini, red wine octopus, Roman gnocchi with wild boar ragu and carved roast duck.
Moving down, alongside a list of its signature handmade pastas featuring a lot of seafood, are dishes like suckling pig, slow-baked fish and spiced cherry and pigeon pie.
And that's only about one tenth of it all.
Cocktails are classic, service is attentive and supremely professional, and the huge menu is available all day, every day. It's an ode to old-world dining, in a beautiful, contemporary setting.