Justin Hemmes and Justine Baker slam Sydney's lockout laws in parliamentary inquiry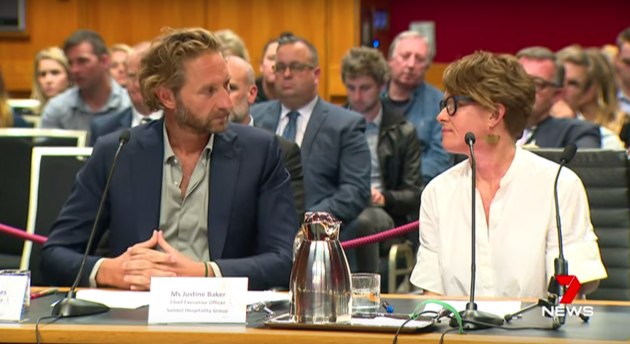 Merivale CEO Justin Hemmes and Solotel CEO Justine Baker have told a parliamentary inquiry into Sydney's nighttime economy that it's time to scrap the lockout laws.
Hemmes repeatedly called the laws "an embarrassment," telling the panel that one of his CBD venues had to bar Madonna, Justin Bieber and the coach of the Chelsea football team from their own parties. 
"Madonna booked her after-party with us. She arrived after 1.30am, she arrived at 1.45am, we couldn't let her into her own event because of the lockouts. How embarrassing is that?"
Hemmes, who originally supported the lockout laws when they were introduced in 2014 after teenager Daniel Christie was killed by a random coward punch attack at 9pm on New Years Eve in Kings Cross, said that violence has decreased and the lockout laws have "served their purpose and Sydney has been recast", but "must now go".
However Australian Medical Association NSW councillor Dr Peter Aquilina told the inquiry: "We've gone from a time when people were dying, to a time when people are not dying. We don't think these laws are incompatible with a vibrant night-life."
Hemmes said that Sydney in 2019 is "a completely different beast to what we had in 2014".
"With the imminent arrival of light rail, a new metro line, and the introduction of Uber and other ride-sharing services, there are now far more efficient and effective means to disperse people home 24 hours a day."
The legislation requires 1.30am lockouts and 3am last drinks at bars, pubs and clubs in the Sydney CBD entertainment precinct. The precinct, defined in regulations, is bounded by Kings Cross, Darlinghurst, Cockle Bay, The Rocks and Haymarket.
Baker told the inquiry that the lockout laws have harmed small businesses not just in the lockout law precinct, but in the surrounding areas too, because it has changed Sydney's nighttime culture. Since 2014, 21 foodservice businesses have closed in the two-block vecinity of Darlinghurst Road and Victoria Street, where Solotel runs two pubs, Baker said.
"The exisiting restaurants and cafes are hanging on by a thread."
She also noted that the "micro-regulations" around drinks service introduced alongside the lockout laws have been difficult for staff and customers to navigate. 
"You can't have a single malt whiskey neat because it's deemed a shot, but you could've had it an hour before," she said, adding that Solotel has dedicated extra time to training to make sure all staff serve within the bounds of the law. 
Hemmes added that the micro-regulations confuse international visitors and deter foreign investment in the city.
"We have all the international guests coming out of their hotels [at night] – they're seeing tumbleweeds."
According to Fairfax, the lifting of the laws would unlock a potential $16 billion annual injection of revenue into Sydney's economy, and though Sydney's foodservice and entertainment industries would not be repaired overnight, Baker says the effects would be felt immediately, because there would be "a general sentiment of excitement and positivity," which has been lacking in the industry.