Inaugural Food & Hospitality Queensland named a resounding success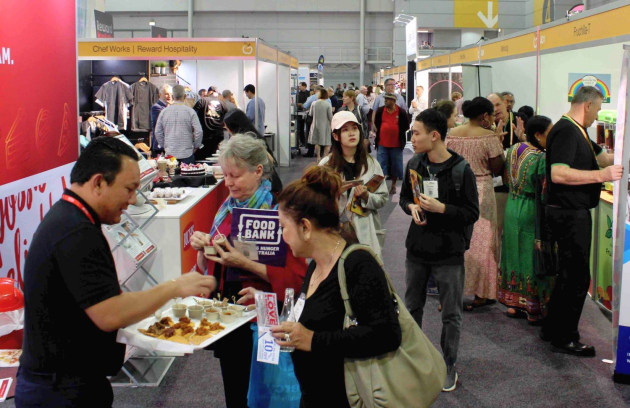 Trade show, Food & Hospitality Queensland, has made a triumphant debut in Brisbane with the latest in food, drink and equipment ideas and a strong visitor turn-out.
With over 140 exhibitors involved, exhibition director Tim Collett puts the expo's success down, in large part, to the strength and growth of the Queensland industry.
"We knew Brisbane was ready for a show," he says, "but I was blown away by the level of interest."
From August 5-6, the Brisbane Convention & Exhibition Centre transformed into a showcase of products, suppliers and expert ideas.
Among Food & Hospitality Queensland's special events was the first-ever Queensland Chef of the Year competition, which saw Factory 51 chef Marcus Hillier take out the top spot ahead of 27 other professionals.
"Chefs are the heroes of our industry and it was fitting to feature this competition at the heart of the show," says Collett.
"It was so pleasing to see the connections being made between chefs from all over Queensland at this elite event."
Hillier won $2,500 in cash and prizes from Unox, Australian Pork and Robot Coupe, as well as a trip to Melbourne to compete in the Australian titles at Foodservice Australia 2019.
The Aged Care Catering Summit saw experts John Casey (Aveo Group), Cherie Hugo (The Lantern Project), Lynn James (Maggie Beer Foundation), Jo Cleary (Dining Experience Specialists) and Tibor Paller (Tibor's Kitchen) come together and share their knowledge and experience about the quality of dining in this sector as well as its future.
Visitors enjoyed free workshops and demonstrations at the Brisbane Café School, highlights of which  included espresso masterclasses with Neli Coffee, pizza innovation with award-winning pizza chef Simon Best, and pork butchering by Murray Valley Pork's Brendan Tuck. 
Many of the participating exhibitors have been pleased with the organisation of the show as well as range of visitors who came through.
One such exhibitor was Grant Allwood from Pac Food. He says, "We were pleasantly surprised by the large number of leads. Having the Aged Care Catering Summit at the show also brought the buyers from this growing sector."
Similarly, William Nicholls of Sunshine Coast producer, Maleny Cuisine, saw it as "a very successful couple of days". He says, "We have pages of leads from serious buyers who are genuinely wanting our products."
Food & Hospitality Queensland will return to the Brisbane Convention & Exhibition Centre next year from August 4-5. 
For further information, please visit foodandhospitality.com.au.