Hunter TAFE Takes Out State Apprentice Competition For Fifth Consecutive Year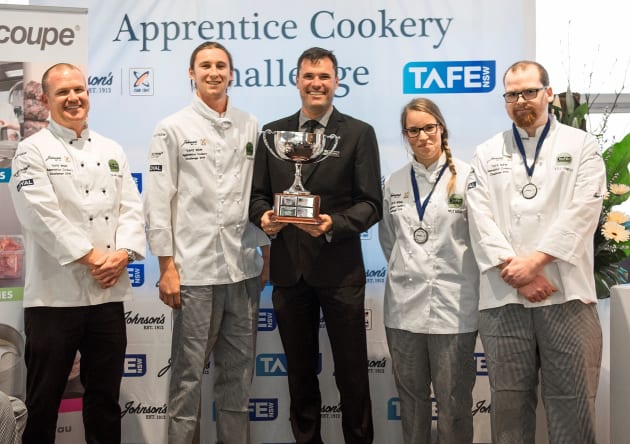 The annual TAFE NSW Johnson's Club Chef Apprentice Cookery Competition took place over the weekend at Ultimo Campus. And claiming the State Trophy for the fifth year in a row was the Hunter TAFE team.
Made up of 2016 Brett Graham Scholarship winner Nele Sadler employed by Subo (Newcastle), Toby Raley employed by Bombini (Avoca), Kyle Feneley employed by Hunter Quarter (Hunter Valley), and Daniel Snedden employed by Circa 1876 (Hunter Valley), the Hunter TAFE team battled it out against others from institutes from across New South Wales. Categories included best entrée, best main course, best dessert, and the overall State Trophy.
Hunter TAFE won Best Main Course, for their beef tenderloing with cauliflower puree, carrots, mushroom and jus, as well as the State Trophy.
Raley was also awarded an encouragement award for his professionalism throughout the competition.
The Hunter TAFE's Commercial Cookery Teacher, Shawn Jeffery, said that the win reflected the four apprentices' skill and dedication to developing their skills.
He says, "Hunter TAFE Commercial Cookery students performed brilliantly in the inaugural State Cookery Competition. The Team went above and beyond their call of duty and are all very proud to have the opportunity to represent Hunter Institute of TAFE."
The TAFE NSW Johnson's Club Chef Apprentice Cookery Competition is an annual event that attracts apprentices enrolled in Certificate III or Certificate IV Hospitality – Commercial Cookery students across New South Wales.
For further information, please visit tafensw.edu.au.