Hospitality innovator Tawnya Bahr celebrated at 2017 TAFE NSW Student Excellence Awards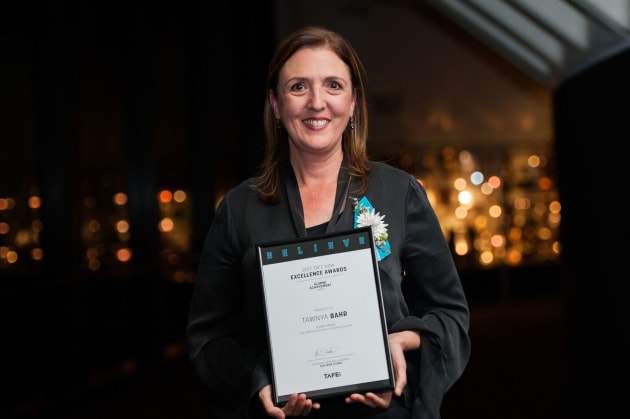 The 2017 TAFE NSW Student Excellence Awards were held on Wednesday night with the spotlight firmly on leadership and innovation.
Amongst the 21 TAFE NSW Award winners from various industries was Tawnya Bahr who received the Alumni Award for Innovation and Entrepeneurship.
A 21 year veteran of the hospitality industry, Bahr graduated from TAFE with a Certificate III in Hospitality before founding two businesses - Straight to the Source, a food tour company facilitating professional development, and Tawnya Bahr Food Consulting.
The award recognises her accomplishments and dedication to the foodservice sector and her business success.
Bahr credits TAFE NSW as providing her with skills from which to build her companies on. She says, "The knowledge I gained in attending TAFE NSW assited my existing consulting business and helped me set up my new business."
Assistant Minister for Skills Adam Marshall congratulated Tawnya and the other 2017 TAFE NSW Student Excellence Awards winners for their outstanding accomplishments.
"Each award winner deserves applause for demonstrating exceptional drive and ability to succeed. What great role models for other students looking to succeed across the wide spectrum of courses available at TAFE NSW.
"The NSW Government's vision for TAFE NSW is to firm up its position as a world-class vocational education and training provider, and it is certainly the hard-working and driven students such as last night's award winners who are helping that vision become reality."