Fair Work Ombudsman investigates Domino's for widespread worker underpayment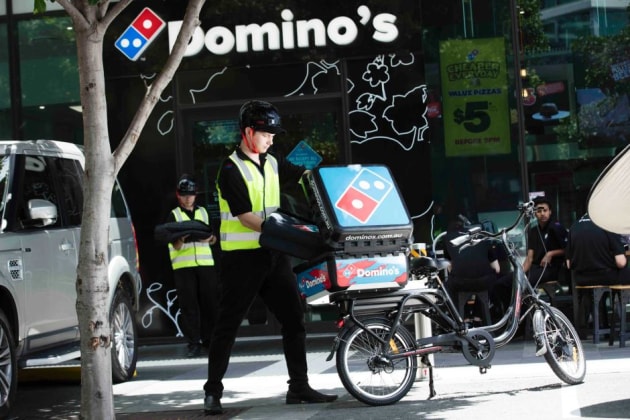 Pizza chain, Domino's, has found itself in legal hot water after a recent audit by the Fair Work Ombudsman of 33 stores in Sydney, Brisbane, Adelaide and Melbourne found 20 workers had been underpaid a total of $1,978 in only one month.
While some stores had been selected randomly for the audit, others had been reported to the Ombudsman for a lack of compliance with workplace issues.
Only four Domino's stores were found to be fully compliant.
And through interviews with 144 Domino's staff and an analysis of 874 employee records, investigators concluded that 19 stores were in contravention of workplace law, whether it be underpaying staff, or not paying for hours worked, delivery allowance, leave entitlements, unauthorised deductions, and record keeping breaches.
Those effected were largely under the age of 25 and were visa holders from non-English speaking backgrounds.
17 formal cautions have been issued, putting businesses that any future non-compliance could result in significant financial penalties.
Another four compliance notices were issued detail the workplace laws breaches and how to resolve them.
Investigations still ongoing into ten stores owned by one franchisor.
"The Fair Work Ombudsman has worked with Domino's head office for several years to try to promote a culture of workplace compliance," says Fair Work Ombudsman Sandra Parker.
"While Domino's have made some improvements to their processes, they should be closely monitoring their stores to ensure employees are being paid correctly.
"We expect better from a major network like Domino's – it should not be up to the Fair Work Ombudsman to find and alert businesses to the systemic issues identified."
Consequently, the Fair Work Ombudsman will monitor Domino's and check its compliance again within 12 months.
"This activity will involve unannounced site visits to Domino's stores to determine whether head office has taken reasonable steps to prevent, detect and address non-compliance within its network," said Parker.
"We recommend that Domino's immediately commence a review of the pay and entitlements of all employees across its network, including at both franchisor and franchisee owned stores."
"We also call upon Domino's to publish the findings of these audit activities so that consumers can be confident their stores are complying with workplace law."
Recent changes to workplace laws mean franchisors can now be held liable for breaches by businesses in their networks.
For further information, please visit www.fairwork.gov.au or call the Fair Work Infoline on 13 13 94.