Ester chef-owner Mat Lindsay to open takeaway shawarma and falafel joint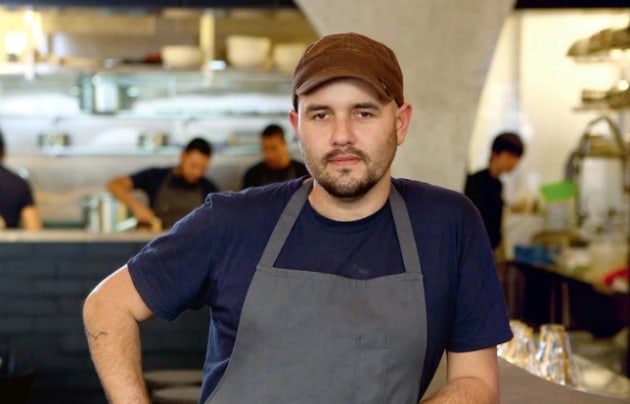 Mat Lindsay, chef and owner at Sydney restaurants Ester and Poly, is joining the Paramount Coffee team to open a 10-seat, all-day shawarma and falafel takeaway joint in Surry Hills.
Opening in August, Shwarmama will offer a trim takeaway menu of only four items: spice-marinated lamb shwarma wrapped in laffa flatbread; herb-packed falafel stuffed into fresh pita with garlic sauce, mango pickle and cabbage; sabich - an Israeli kebab filled with fried eggplant and boiled eggs; and a riff on the Halal snack pack which the team are referring to as the NHSP (not Halal snack pack).
Lindsay, who is known for his incredibly modern food that melds flavours from Europe, Asia and beyond, has been playing with shawarmas at Ester during Sunday lunch services lately and says this was the foundation for the idea.
"I half-jokingly threw the idea out there to Russell [Beard], and here we are. It's a bit of an experiment," he says.
Lindsay is working with Paramount Coffee Project and Paramount House Hotel co-owners Beard, Mark Dundon and Jin Ng on the new site on Commonwealth Street – just down the road from Poly.
Designed by Anthony Gill (also behind Ester and Poly), the space will be stripped back and minimal aside from bright graphics supplied by Brisbane-based designer Shyanne Trutwein for both the venue and a range of merch including neckerchiefs, caps, coffee mugs and aprons.
Beard says the lamb will be the star of the show, which Lindsay promises will be "fatty" and "well-marinated". He's been busy working on a spice-heavy marinade recipe for the NSW lamb he'll use on the slowly rotating shwarma spike.
"Falafel will be fried to order, that's essential," says Lindsay. "They'll be super green and herby, very traditional. We're not looking to reinvent the wheel here." His team will also make all their own bread, hot sauces, pickles and condiments to accompany.
Drinks-wise, there'll be a red and white wine on pour, plus beer and a craft soda. Beard, who owns Reuben Hills cafe around the corner, confirms that Shwarmama will also serve espresso, but customers will for the most part serve themselves
There'll be a focus on sustainable packaging too, with no aluminium or plastic used for takeaway orders.