Deliveroo reveals global top 100 dishes ordered in 2017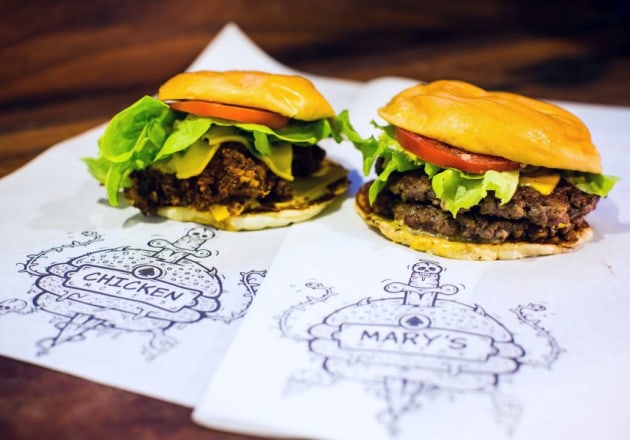 Online delivery service, Deliveroo, has crunched the numbers and come up with the top 100 list of the world's most popular dishes as ordered by its customers over the past 12 months. And Australia has nine that makes the cut.
The humble cheeseburger was overall the world's most ordered menu item, with Lille-based restaurant Big Fernand's Le Big Fernand cheeseburger proving to be the most popular amongst Deliveroo customers. Other favourites include London burger joints Five Guys' cheeseburger (No.3) and GBK's 6oz cheeseburger (No.10).
Also patent from Deliveroo's top 100 list is the popularity of burritos worldwide. Indeed the second most ordered dish worldwide was the burrito from Dublin's Boojum, and Dubai's Taqado Mexican Kitchen came in at number five.
Other dishes to feature on the top 100 list are poke bowls, buddha bowls, and hybrid dishes, such as creme egg pizzas, chicken cone waffles, and pulled pork, chocolate, chili, avocado and pickle sandwiches.
Australia's contenders are Guzman Y Gomez's burrito (No.11, Sydney), Mary's Burger (No.46, Sydney), 8 Bit's Golden Axe Burger (No.71, Melbourne), Hanoi Hannah's Poached Chicken Pho (No.75, Melbourne), Fishbowl's The OG Poke Bowl (No.79, Sydney), Sabbaba's Sabbaba Vegan Pitta (No.81, Sydney), Gelato Messina's Salted Caramel and White Chocolate Gelato (No.86, Sydney), Soi Noodle Bar's Japanese Fried Chicken Wings (No.91, Canberra), and Oriental Teahouse Chapel Street's Chilli Wagyu Beef Dumplings (No.98, Melbuorne).
Deliveroo's top 100 most popular dishes ordered around the world in 2017:
1. Le Big Fernand, Big Fernand, Lille, France
2. Burrito, Boojum, Dublin, Ireland
3. Cheeseburger, Five Guys, London, UK
4. Tripletta Pizza, Tripletta, Paris, France
5. Regular Burrito, Taqado Mexican Kitchen, Dubai, UAE
6. Boojum's Twojum, Boojum, Belfast,UK
7. Sushi Box for Two, Sushi Shop, Toulouse, France
8. Chicken Salad Bowl, The Daily Cut, Singapore
9. Chicken Katsu Curry, Wagamama, London, UK
10. Cheese 6oz American Cheeseburger, GBK, London, UK
11. Burrito, Guzman Y Gomez, Sydney, Australia
12. Chicken Tinga Burrito, Mission Burrito, Bristol, UK
13. Medium grilled chicken burrito, Tortilla, Brighton, UK
14. Ga Bun, James Bun, Paris, France
15. Little Chicken and Avo Wrap, S/wich, UAE
16. MANA! Make Your Own Wrap, MANA! Fast Slow Food, Hong Kong
17. Crazy Salmon Roll, Kenji Sushi, Edinburgh, UK
18. Byron Burger, Byron, London, UK
19. Avocado Beef Burger, Little Apple, Paris, France
20. The Bacoa Burger, Bacoa – Universidad, Barcelona, Spain
21. Dead Hippie Burger™, MEATliquor, London, UK
22. Oahu Bowl, Ahi Poké, London, UK
23. Bouchees, Tamarin, Paris, France
24. Grilled Chicken Burrito, SALSA SHOP, Amsterdam, The Netherlands
25. Beef Egg Noodles, Wok to Walk, Toulouse, France
26. The Twenty, Barsalata, Dubai, UAE
27. Siracha Spicy Tuna Bowl, Poké Perfect, Amsterdam, The Netherlands
28. The Beepbop Bowl, Grain Traders, Singapore
29. Poké Bowl / 夏威夷刺生飯, Pololi, Hong Kong
30. Biang Biang Noodles 有緣小敍, Yau Yuen Siu Tsui, Hong Kong
31. Sushi bowl Salmone, Macha/Japanese café, Milan, Italy
32. Porc/Boeuf Meatball, Ballekes, Brussels, Belgium
33. California Dream Sushi Box, Sushi Shop Louise, Brussels, Belgium
34. Cheeseburger, Five Guys, Madrid, Spain
35. Cheeseburger, Tommi's Burger Joint , Berlin, Germany
36. Pho Tai, BEP Vietnamese Kitchen, Hong Kong
37. Chicken Grill, Street Bangkok, Paris, France
38. Classical Burger, Le Camion qui Fume, Paris, France
39. Classic Pizza, Pizzare, Berlin, Germany
40. Poké Bowl | El Spicy Tuna, Sushito, Amsterdam, Netherlands
41. Pollo Asado Burrito, Muchachos, Singapore
42. Full Rack | American Style Ribs From The Texas Smoker, Braai, Amsterdam
43. Tie Guan Yin Tea, TPTea 茶湯會,Hong Kong
44. Bufala Pizza Slice, Mamma Roma, Chatelain
45  Pollo Asado Burrito, Muchachos, Singapore
46. Mary's Burger, Mary's, Sydney, Australia
47. Pizza Quatro Stagioni, Novecento, Haarlem, The Netherlands
48. Signature Boiled Chicken, Boon Tong Kee, Singapore
49. Bavet Spaghetti, Bavet, Ghent, Belgium
50. Porc and Beef Würst, Wurst, Ghent, Belgium
51. Pitta Gros, Greek and Shop, Madrid, Spain
52. Medium Banana Pudding , Magnolia Bakery, Dubai, UAE
53. Chicken Satay, Thai on High, Hong Kong
54. Pollo Polo, Richy's – JLT, Dubai, UAE
55. Thai Green Curry, Lucy Chang, Antwerp, Belgium
56. Chicken Chilapa, Chilapa Casanova, Barcelona, Spain
57. Steakmous, Mantoushe, Dubai, UAE
58. Tuna Poke Bowl, Aloha Poké | EDITIONS, Singapore
59. Poke Bowl, A Poke Theory, Singapore
60. Chicken Egg Noodles, Wok to Walk, Barcelona, Spain
61. Buffalo Campano Burger, Trita, Milan
62. The Original Baby Backs, Tony Roma's, Madrid, Spain
63. Subway Melt, Subway, Eindhoven, The Netherlands
64. Pho Wagyu Beef, NamNam Noodle Bar, Singapore
65. Queen Burger, New York Burger, Madrid, Spain
66. Mild Grilled Chicken Burrito, Guzman Y Gomez, Singapore
67. Tortilla Española, José Luis, Madrid, Spain
68. The Italian with grilled chicken, Toss'd, Dubai, UAE
69. Paris Texas Burger, Paul's Boutique Station, Ghent, Belgium
70. Salmon Poke, CALI-POKE California Seafood House, Dubai, UAE
71. Golden Axe Burger, 8 Bit, Melbourne, Australia
72. Cheeseburger, Five Guys, Dubai, UAE
73. NY Style Bagel, Bagels, Milano, Italy
74. Tacos with Dessert, CHEZWaWa, Brussels, Belgium
75. Poached Chicken Pho, Hanoi Hannah, Melbourne, Australia
76. Lemongrass Pad Thai, Lemongrass, Berlin, Germany
77. Black Bean Chicken, Ramen, Cork, Ireland
78. Teriyaki Donburi, Wagamama, Dublin, Ireland
79. The OG Poke Bowl, Fishbowl, Sydney, Australia
80. Daruma Sushi Roll, Daruma Sushi, Roma, Italy
81. Sabbaba Vegan Pitta, Sabbaba, Sydney, Australia
82. Happy Waffle, Waffle Brothers, Berlin, Germany
83. Kross Duck Hanoi Deli Eppendorf, Hamburg, Germany
84. Steak and Cheese Sub, Subway, Dublin, Ireland
85. Big Club Sandwich, California Bakery, Milano, Italy
86. Salted Caramel and White Chocolate Gelato, Gelato Messina, Sydney, Australia
87. Bibimbab - Honey BBQ Beef, Son Kitchen - Korean Street Food, Berlin, Germany
88. Hamburger di manzo with bacon, Beveria Monteverde, Rome, Italy
89. Diavolo Pizza, Otto e tre Quarti, Florence, Italy
90. Khao Pad, Aroydee, Frankfurt, Germany
91. Japanese Fried Chicken Wings, Soi Noodle Bar, Canberra, Australia
92. Chicken Tenders, Rocket's, Dublin, Ireland
93. Türkitch, Türkitch - Köfte & Kebap, Munich, Germany
94. Parma Pizza, Pompeii Pizza, Cork, Ireland
95. Cheese Bacon Burger, Macinata - Sarti di Burger Firenze, Florence, Italy
96. Simmered Pork Knuckle Dried Noodle, Min Saam Gun 麵三館, Hong Kong
97. Fresh North Atlantic Cod, Beshoff Bros, Dublin, Ireland
98. Chilli Wagyu Beef Dumplings, Oriental Teahouse Chapel Street, Melbourne, Australia
99. Mango Pancakes, 地茂館甜品 Tei Mou Koon Dessert, Hong Kong
100. 201 招牌小籠包 (4件), Shanghai Lao Lao - Kennedy Town, Hong Kong