Cumulus Inc. introduces rotating pastries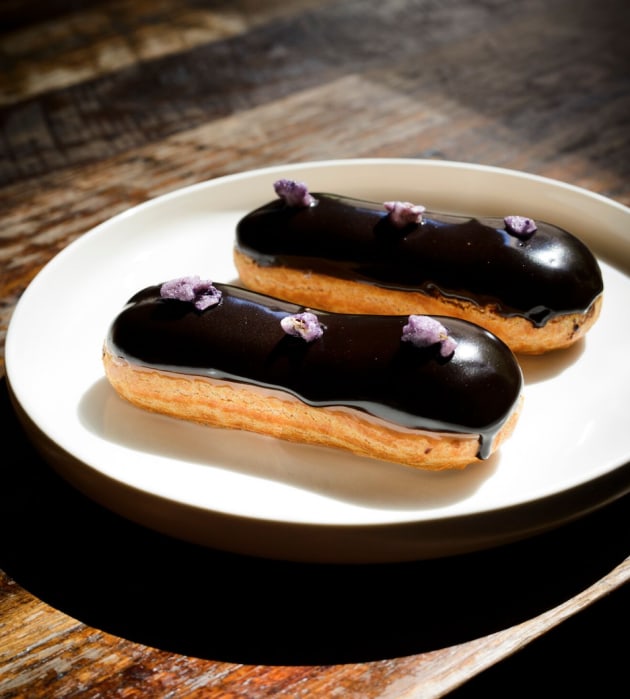 The pastry team at Andrew McConnell's Melbourne restaurant and bar Cumulus Inc.  has introduced a monthly pastry special, taking inspiration from classics around the world.
Over the next 12 months, the team will make limited batches of 12 different pastries daily. It's a way to tip their hats to some of the world's great sweets, but it's also a way to promote return business to the high-end diner. With any luck, regulars will come back monthly to try each pastry, and stay for a meal. 
Kicking off this month is a chocolate and violet éclair. Their version the choux log is piped with crème patissiere and topped with a bittersweet dark chocolate glaze and crystallised violets. It's a take on a memorable chocolate and violet éclair McConnell ate at one of Paris' oldest patisseries, Stohrer, established in 1730. 
French pastries will appear a few times throughout the year; again in March with a chausson aux pommes, in June with a Kouign-amann, in September with a pistachio escargot, and in January 2020 with a Galette des Rois. But the menu won't just orbit central Europe.
July's special will be an Egyptian basbousa; a ubiquitous cake made with semolina, yoghurt and drenched in an orange-blossom and cardamom syrup. At Cumulus Inc. it will be served in the morning with peppermint tea.
In October, Swedish Cinnamon Roll Day (Kanelbullens dag) on October 4 will be celebrated in Flinders Lane with McConnell's version that will strive to stick to the truest of Swedish recipes; also served in the morning with coffee.
See the full list of pastry specials below.
Cumulus Inc. Monthly Pastry Specials:
FEBRUARY - Chocolate and Violet Éclair  
MARCH - Chausson aux pommes
APRIL - Spiced hot cross bun
MAY - Madagascan vanilla custard and meringue tart
JUNE - Chocolate pie
JULY – Basbousa
AUGUST - Cannoli with whipped ricotta, candied fruits & chocolate
SEPTEMBER - Pistachio escargot
OCTOBER – Kanelbullar
NOVEMBER – Lamington
DECEMBER – Blackberry and fig crostata
JANUARY - Galette des Rois