Chef Peter Doyle announces retirement from Merivale fine-diner est.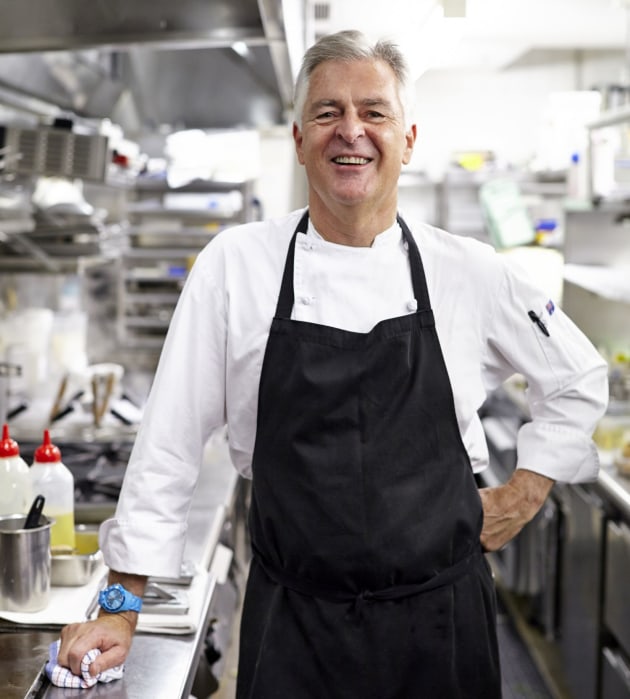 Sydney chef, Peter Doyle, has today announced that he will be retiring from Merivale's two-hatted restaurant, est. Stepping aside in June, he will take on the role of leading the hospitality group's new apprenticeship program.
Doyle began his culinary career back in 1974 when he graduated TAFE as 'Apprentice of the Year'.
The next ten years saw him man the pans at various restaurants as well as found his debut restaurant, Reflections at Palm Beach, which had a focus on French nouvelle cuisine. His three other venues, Le Trianon, Cicada and Celsius, followed soon after.
Doyle partnered with Merivale to open est. in 2003 on on the first floor of The Establishment. From he received many accolades, including American Express Restaurant Awards Hall of Fame three years in a row; 2006 Sydney Morning Herald Restaurant of the Year; and the 2011 Sydney Morning Herald Good Food Guide Award for Professional Excellence for training and inspiring staff.
Considered on of Australia's most influential chefs, he has often been referred to as a "home-grown legend" and "an inspiration to the industry".
Indeed, Margaret Fulton once described Doyle as not only cooking "with his fingertips and hands but with all his senses – smell, taste – it's as if he was an artist with a sensitive palate".
To commerate this end of an era, est. will launch 'Peter Doyle's Best. Years' menu on Monday April 30. Running until Saturday June 2, the special menu will featuring a diverse selection of dishes that have defined his 44-year career.
The Best. Years menu includes pan-fried John Dory fillet with grilled scallop, spinach, carrot juice and sauternes emulsion, as well as juniper-crusted venison saddle with beetroot, boudin noir, chestnuts, and cocoa paper.
When Doyle steps down as executive chef of est. in June, he will formalise his teaching in preparation for leading Merivale's new internal chef apprenticeship school which launches in January 2019.
"I've been teaching people ever since I started, for the last 40 years, so this really did feel like the right evolution," says Doyle.
"I don't want to step away completely. This is going to be face-to-face and hands on, I'm really excited to get in front of a class and teach these kids the skills that have now become so instinctual."
Amongst the many, successful Australian chefs to have benefitted from Doyle's mentorship and guidance are Karl Firla (Oscillate Wildly), Adam Wolfers (ex-Yellow and Monopole), and Josh Niland (Saint Peter).
The new role will also see Doyle work together with Merivale's partner and registered training organisation, Allara Learning, to build course content that is consistent with the requirements of completing an apprenticeship and meeting the goal of fast-tracking talent into the workforce.
40 young, apprentice chefs will be involved in the program.
Doyle says, "You always want the people you're teaching to be better than you are by the time that they've grown in their capacity.
"You want the world to be a better place, so you want them to be. It's progress, and it's really satisfying."
Taking over from Doyle is est. head chef Jacob Davey, who has been in the role for past three years. He will introduce his new menu in July.
For further information, please visit merivale.com.