Chef Morgan McGlone launches Natural History Bar & Grill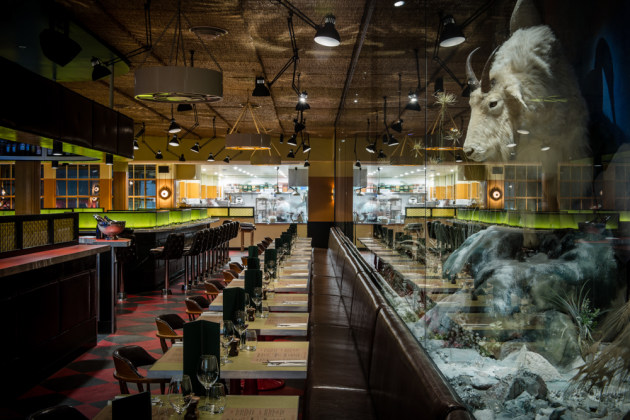 Swinging the doors open today is Natural History Bar & Grill, the new partnership between Belles Hot Chicken's Morgan McGlone and 100 Burgers Group.
Taking over the former site of a 1940s bank, thebar, grill and cafe boasts 240 seats in the heart of the Melbourne CBD at 401 Collins Street.
Design team, International Worldwide, has taken inspiration from New York's The Oyster Bar at Grand Central Station, to craft a rich, dark space featuring a 15-metre long diorama backdrop, over 20 taxidermy specimens, large steel and glass chandeliers, log wall sconces and reconditioned vintage captain's chairs.
And as an all-day venue, McGlone's menu showcases Southern-style bar and grill classics in different guises for breakfast, lunch and dinner.
Highlights include beef tartare with smoked oyster, soy egg, beef tendon chips; pork chop with roasted onions and beer mustard; lamb Barnsley chop with lamb jus and mint jelly; and free-range roast chicken.
Diners will also be able to enjoy the changing range of sandwiches including the 401 reuben; smoked baloney; and the McRib sandwich.
Vegan options include roasted cauliflower and grains, served with toasted and sprouted grains, green mustards; and a dish of salt-baked beets, lemon verbena oil and pistachio Pistou.
McGlone is thrilled with what he and the Natural History have achieved.
He says, "My food focus at Natural History is that we want to pay homage to all the great steak houses of America; Keens, Hillstone, Peter Luger.
"The food will have influences from all over since we are from everywhere cooking in Australia.
"What Neil Perry achieved with Rockpool Bar & Grill is what I consider the benchmark for steak houses in Australia.
"We hope that people will enjoy what we are doing at Natural History as much."
To curate the wine program, McGlone has worked with sommelier Gavin Wraith to put together a natural-focused wine list sourced largely from smaller and new wave Australian producers. 
"We like our food 'farm to table' and there's a reason for that," says Wraith, "we know where it comes from, we know who produces it and we know they are passionate, dedicated people, producing the best product they can, always striving for better.
"Why should our thoughts wine be any different?
"We're not looking for jazzy labels, wax tops or organic certifications. We're going to list great wine made by great people."
For further information, please visit naturalhistorybarandgrill.com.au.