Chef Jerry Mai to open Vietnamese beer hall and restaurant in Melbourne's east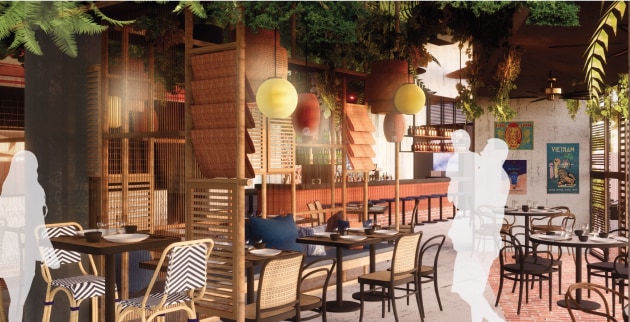 Chef Jerry Mai of Melbourne's Annam and Pho Nom will open her fourth restaurant next month, bringing her signature hyper-contemporary Vietnamese food to a new beer hall and restaurant in Glen Waverley.
Bia Hoi will take inspiration from the bia hoi tradition in Vietnam's capital, Hanoi. Across the city, but especially at one intersection known as "beer corner", locals bring out kegs on wheels, perch on the street and serve cups of lager for around 30 cents a pop. The daily ritual brings locals and tourists alike, who sit drinking beer on plastic stools curb-side late into the night.
"There is something electric about the beer halls in Vietnam, where people kick back and have a great time, enjoying beer made just down the road," says Mai. "The atmosphere is always light and fun, and there is a sense of community togetherness. I wanted to replicate that with Bia Hoi out at the Glen. It's a bit of a personal full-circle for me, as I grew up just a few suburbs away. I hope the local community will use it as a place to get together over a drink and a meal and just enjoy each other's company."
Mai's suburban restaurant will celebrate Vietnamese beer culture at lunch and dinner in a vast space that spans multiple dining areas, a large U-shaped bar and a sunny outdoor area. 
Bia Hoi will serve a number of salty, crispy snacks, like crispy pork skin, and salted peanuts and dried squid, as well as a range of rice paper rolls and skewers. 
Four "Vietnamese BBQ" tables will be available, where diners can grill their own cuts of wagyu beef, shellfish and skewers. The self-grilled proteins are served alongside various sauces, rice paper, herbs, salads and rice noodles, with guests encouraged to build their own rice paper rolls. 
Also on offer are steamboats hot pots to be shared. The hot and sour Canh Chua steamboat has a broth base of tamarind and pineapple and is served with barramundi, prawns, rice noodles and greens; whereas the fragrant beef-based Pho steamboat is accompanied by wagyu sirloin, beef balls, rice noodles and brisket. 
On the beer side, a rotating mix of local micro-breweries make up a large portion of the list, including Dandenong's Kaiju and Mr Banks from Frankston. There are also Vietnamese mainstays such as 333, Bia Hanoi and Siagon Special. The majority of wines available at Bia Hoi are sourced from close to home by small-batch producers like Billy Button, Pinemount and Cloak & Dagger. 
On Sundays, Bia Hoi's bottomless brunch offers an endless supply of dishes delivered by roving trolleys and paired with unlimited beer, wine, mimosas and Spritzes. 
Bia Hoi is scheduled to open on August 1.