Chef Ben Devlin opens first solo venture in Northern NSW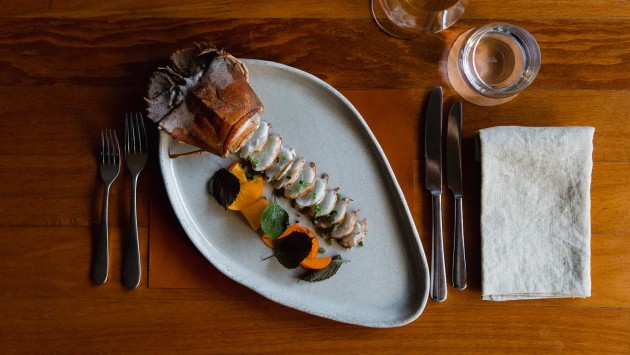 Former Paper Daisy executive chef Ben Devlin and partner Yen Trinh have opened their first solo venture, Pipit, in Northern New South Wales.
The contemporary coastal restaurant in Pottsville (between Gold Coast and Byron Bay, Devlin's hometown) will celebrate the Northern Rivers region's produce by harnessing the chef's existing connections to local landscapes, farmers and producers. 
Pipit will have a seasonal a la carte menu of about 12 dishes, with options of four- or seven-course tasting menus.
The open kitchen will centre around a woodfired grill and charcoal pit, allowing the team to experiment with different uses of slow and fast cooking, curing, dry-ageing and smoking.
Joining the duo is restaurant manager Emily Smith (ex-Paper Daisy) and sommelier Matthew Love (ex-Tonka and Cutler and Co.), whose wine list will focus on Australian and international wineries located within 150 kilometres of a coastline, where mineral content and saline soils help varieties pair well with the style of food. 
Last year, Devlin left his former post after four years in nearby Cabarita Beach, where he earned Paper Daisy two hats, and the title of Regional Restaurant of the Year in the Good Food Guide 2017.
Now Devlin says he's excited to assume the role of chef-owner for the first time.
Every great chef I have had the privilege to work alongside has been an owner as well and that has inspired me on my own journey. My vision for Pipit is a space that welcomes the people inside it, leading to more happiness and connections to our community," he says.