Brisbane's Howard Smith Wharves announces culinary team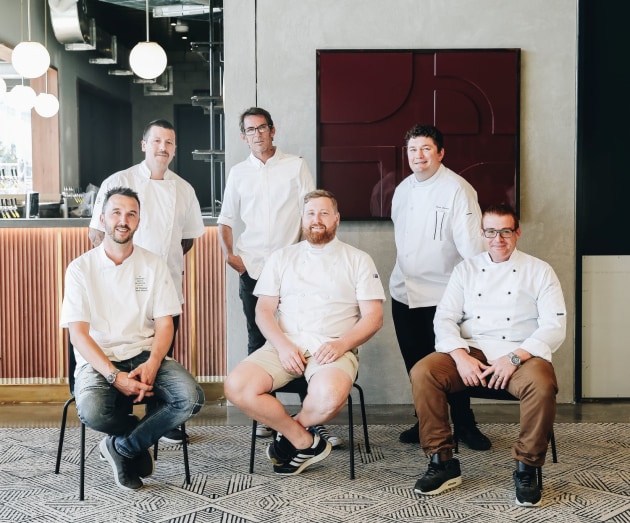 Momentum is brewing on the Brisbane River with Howard Smith Wharves gearing up to open its precinct of restaurants and bars. Ahead of the unveiling, the heritage-listed development has announced its culinary team who will look after the offerings at such venues as Felons Brewing Co. and Mr Percival's.
Leading the Howard Smith Wharves team is David Finlayson. Scottish-born, Finlayson worked for Tapas Bars (Hong Kong) and two Michelin star Pied à Terre (London) before a six-year stint at The Lucas Group's Chin Chin and Kisumé in both Melbourne and Sydney.
As culinary director he oversees the food and beverage offerings at Felons Brewing Co., Mr Percival's and Howard's Hall and Rivershed events, as well as a yet-to-be-named restaurant.
The position will also allow him to mentor, train and assist emerging and up-coming chefs while nuturing a local produce and a farm-to-plate philosophy across the Howard Smith Wharves operation.
"Being able to train chefs across a precinct like Howard Smith Wharves is a very rare opportunity," says Finlayson, "and I think it will attract some of the best trainees and apprentices from all over Australia."
Filling the role of executive chef is ex-Merivale cuisinier, Patrick Friesen. Originally from Canada, Friesen earned his first head chef's role at age 20, before going on to run Sydney restaurants Ms G's, Queen Chow and Papi Chulo.
"I am excited to be part of Brisbane's most momentous and exciting opening and getting to explore the produce and seafood of the sunshine state all while working with a team who are passionate about Howard Smith Wharves," says Friesen.
Leading Howard Smith Wharves' overwater bar, Mr Percival's, is Damien Styles. A three-decade veteran of the Queensland hospitality industry and former head chef of Burleigh Heads' The Fish House, his new menu will focus on fresh, locally-sourced seafood and include such dishes as lobster rolls, anchovies with olive oil, lemon and garlic, and whipped cod roe baguettes. 
He says, "My love of attention to detail in the food and dining experience, along with my love of all things seafood means Mr Percival's is the perfect place for me."
As executive chef for events at Howard Smith Wharves, Steven Forrester brings with him 19 years worth of experience having worked at Parliament House Canberra, Crowne Plaza Hunter Valley and Stamford Plaza Brisbane. Seasonal, quality produce will be on his menu with a focus on back-to-basics cooking.
"I'm a big advocate of Queensland and Australian produce, and quality food which is cooked and presented simply," he says.
And last but not least, Michael Hardy, the head chef of Felons Brewing Co. Joining the Howard Smith Wharves team after four years in Samoa, Fiji and Vanuatu where he took on the role of executive chef at The Tanoa Hotel Group and at Ramada Resort, he's looking forward to working with "fresh, simple and local" ingredients and collaborating with the other chefs of the precinct.
Hardy says, "I'm part of a once in a lifetime opportunity to open Howard Smith Wharves, which is very exciting."
The Howard Smith Wharves were built in th 1930s before being abandoned in the 1960s. The redevelopment of the area includes  a 164 room, 5-star boutique hotel, restaurants, bars and function spaces.
For further information, please visit howardsmithwharves.com.