Bondi cafe Shuk expands to two new locations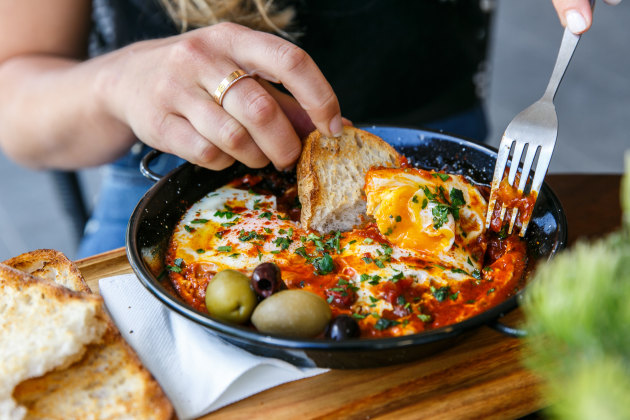 After five years at Bondi, Israeli cafe Shuk has opened two new cafes, in Chatswood and Elizabeth Bay.
Owners Ariel Hefer, Erez Beker and Yoni Kalfus opened the cafe and bakery on a whim after walking past the empty site one day, after Kalfus had closed his Moroccon-inspired cafe Mint just a few months earlier. The right space was equally as important this time. "Finding the perfect venue for SHUK to grow was more important than how quickly we could expand," says Kalfus. "We wanted there to be a familiarity between the venues, the single round table upon entry and the long share style tables seen in Bondi will feature in our new spaces."
The two new openings happened within a month of each other over the summer break.
Head chef German Sanchez will lead the three kitchen teams as executive, while remaining in Bondi, where the venue has its own bakery too, Shuk Bakery. All the menu's breads, like challah, bagels, sourdough and cakes are made here, and are also available for takeaway.
The undeniable favourite at Shuk is the Shakshuka (although not the reason for the cafe's name. "Shuk" actually refers to a central marketplace in Israel), a traditional dish of eggs baked in tomato stew with loads of spices. Tear off a hunk of fresh bread and dip it in. Sanchez is also known for his teff pancakes – pancakes made from an Ethiopian grain – served with ricotta, dukkah, apple and pear compote, berries and halva (a flossy sweet made from sesame paste).
These signatures dishes will appear on all three menus, alongside a host of new ones. "SHUK is known for its Israeli and Middle Eastern classics, and we want to hero these and continue to push the boundaries with new dishes" says Sanchez, "but we want each venue to have its own personality."