Ben Williamson assumes executive chef role at Sydney's Nour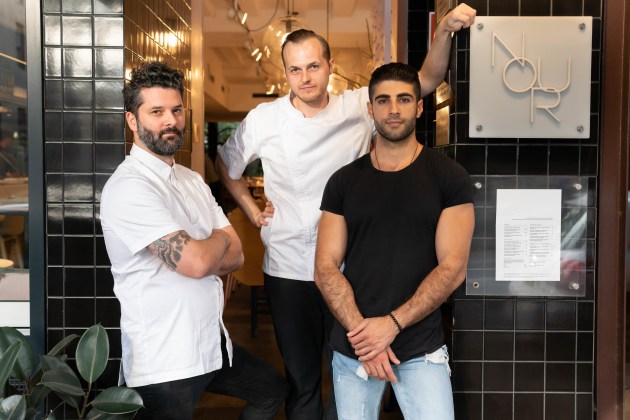 Surry Hills restaurant Nour has had a shake up, welcoming new executive and head chefs.
Known for his experience and creativity with Middle Eastern cuisine at Gerard's Bistro in Brisbane, Ben Williamson will take over as executive chef. He'll be joined by new head chef Mike Dierlinger, who previously worked at Ross Lusted's Bridge Room, which recently closed.
Together the chefs have created a new menu for Nour, and will also be introducing a Sunday brunch offering.
 Since opening Nour three years ago, restaurateur (and My Kitchen Rules' finalist) Ibby Moubadder's vision has been to showcase classic Middle Eastern flavours, and interpret them in new and exciting ways. Moubadder arrived in Australia from Lebanon in 2007, and now aims to share the flavours of his childhood.
"With Ben and Mike on board, we aim to take Nour to greater heights, further pushing the boundaries of contemporary Middle Eastern cuisine. These gentlemen come not only with stellar reputations, but a standard of culinary execution that is unmatched," says Moubadder.
Dishes will use both Australian produce and traditional Lebanese ingredients, like line-caught snapper spiced with chilli, tahini and pine nuts. The chefs' menu will focus on shared plates, cooked over charcoal and in a wood-fired oven. Breads, dips, pickles, preserve, couscous, yoghurt, labneh, curds and ashta (Lebanese cream) will all be made in-house. 
"Nour, and working with Ibby, is a perfect fit for me after my years at Gerard's," says Williamson. "For the new menu we want to bring a modern touch to heritage dishes. Between Mike's uncompromising standards and my Middle Eastern palate, we are set to be a great team and take Nour's menu to the next level." 
Williamson is taking on the project while simultaneously preparing to open his own wood-fired restaurant in in Brisbane, 22 Agnes, which is due to open in August.
From Sunday 2 June, Nour will also launch its Sunday brunch offering, with dishes like manoushe, Lebanese flatbread served with the options of sujuk (dry spicy sausage) and egg, or kishk (dried yoghurt sauce) and lemon; ful medames, beans, herbs and spices with warm hummus; as well as Awarma, lamb confit and eggs. 
New custom mirrors will be hung to emphasise the theatre of the kitchen, as well re-configured lighting, which aims to create a more intimate space.