Australia's best dairy revealed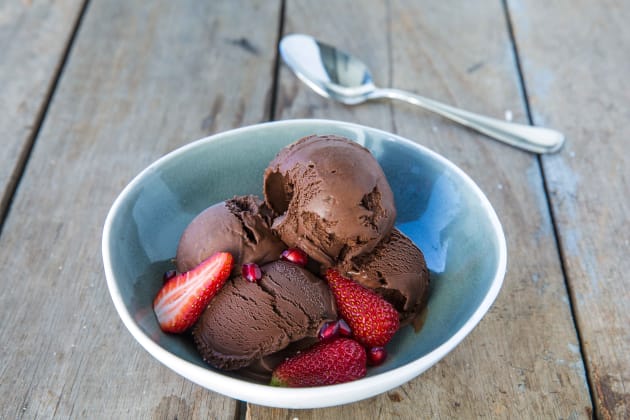 The 2017 Australian Grand Dairy Awards were announced last week in Melbourne. From a record 470 entries, 20 dairy products were named winners.
A panel of 24 expert judges tasted their way through the hundreds of gold medal winning dairy foods – including cheese, ice cream, milk, butter, cream, yoghurt, dips and gelato – assessing flavour, aroma, texture, body and appearance. 
The top prize of grand champion dairy product went to Queensland-based gelataria, Milani House of Gelato, for its dark chocolate gelato.
Grand champion cheese was awarded to Tasmania's Heidi Farm for their robust raclette - a semi-hard melting cheese, it has a sweet and nutty-mid palate and some lingering umami savoury characters.
For the first time ever, the Australian public was also given the opportunity to choose their favourite cheese in the new people's choice category. More than 3,500 consumers cast their vote to reveal King Island Dairy's Black Label double brie as the winner of the inaugural award.
Flavours influenced from different corners of the globe were represented in the coveted list of champions with locally produced European and Indian-style dairy products such as Montefiore's trecce, That's Amore Cheese's diavoletti, House of Riz's traditional greek rice pudding and Sharma's Kitchen's mango lassi all taking out the top spot in their category.
Amanda Menegazzo, convener of the Australian Grand Dairy Awards says, "These Awards are the grand final of dairy competitions in Australia, recognising the talented Australian farmers and producers who bring such high quality dairy foods to our fridges.
The quality and variety represented by our 2017 Champions marks a really exciting time for the industry and dairy lovers. It's really pleasing to see some of the country's well known and loved supermarket brands alongside new-to-the market, artisan dairy products. We encourage Australians to look out for the blue and gold Champion and Grand Champion medals on pack and show their support for these talented Australian producers."
Now in its 18th year, the Australian Grand Dairy Awards are Australia's most prestigious national dairy awards and the highest accolade for Australian dairy producers.
 The full list of 2017 Australian Grand Dairy Awards Champions is below and on the Legendairy website.