Apprentice chefs to go head to head for $10K Brett Graham Scholarship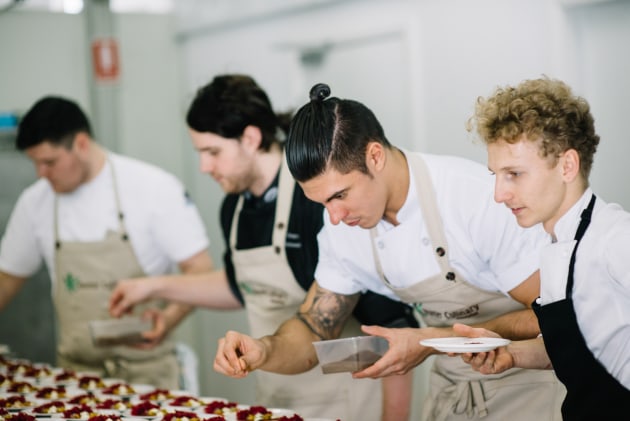 The first stage, cook-off for the 14th annual Brett Graham Scholarship is set to take place on Tuesday October 17.
The competition will see the Hunter Region's best apprentice chefs throw their hat in the ring for that change to win the $10,000 scholarship by cooking a three-­course meal for 60 industry members.
Named after one of TAFE NSW's most successful alumni and the head chef of The Ledbury (London), the Brett Graham Scholarship was established in partnership with Hunter Culinary Association and TAFE NSW in 2003.
Aimed at guiding, supporting and nurturing local, young gun talent, the scholarship provides the wining chef with a once-­in-­a-­lifetime opportunity to travel to the UK and work alongside Brett Graham at The Ledbury, which is currently ranked at number 27 on the World's Best Restaurants list.
The scholarship also go towards enjoying the top dining experiences in Europe as well as a Certificate IV in Commercial Cookery at TAFE NSW.
Ben Neil, Hunter Culinary Association chairman, is proud to see how the scholarship has grown and the number of chefs they have been able to champion.
He says, "Originally, the scholarship funds would cover the cost of the winner's flights.
"Now, thanks to events such as the annual Food Fight, which takes place each June, we have been able to provide the winner with a life-­changing experience.
"Each year the scholarship attracts the region's best apprentices and young chefs and sees them gain international experience with most returning home to our region.
"A core focus of the association and its scholarship charter is to foster upcoming talent in the industry for years to come."
Next week's cook-off will whittle a group of apprentice chefs down to three finalists who will then go on to design, prepare and cook a three-­course meal based on two cuts of pork as selected by Brett Graham while also managing a kitchen 'support team' of apprentices at the final competition to be held at TAFE NSW Hamilton.
This year's panel of judges includes former Brett Graham Scholarship recipient Garreth Robbs of Bistro Molines, Stephanie Airlie-­‐Noé from House of Airlie Public Relations and Tracey Amos from TAFE NSW.
The preliminary cook-off takes place on Tuesday October 17. The finals will be held on Tuesday October 24.
For further information, please visit hunterculinary.com.au.