All-star, all-female chef line-up announced for #CookForSyria 2019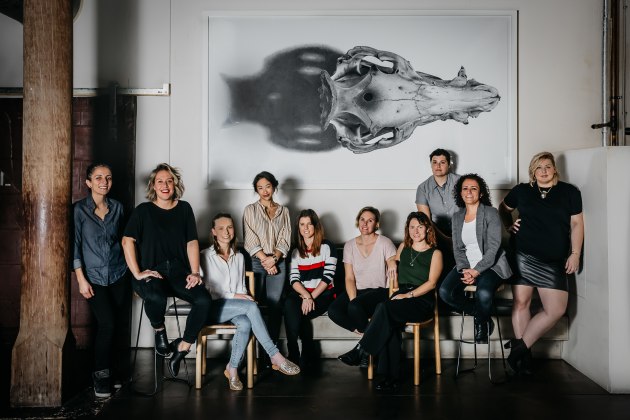 An all-star line-up of female chefs will come together and help raise money for the children affected by the conflict in Syria by creating a special one-off dinner at Nomad in Surry Hills, on Monday 12 August. 
NOMAD's head chef Jacqui Challinor will collaborate with the country's top talent and create a four-course menu, putting a Syrian spin on their signature dishes.
The line up includes Julie Niland (Saint Peter, NSW), Claire Van Vuuren (Bloodwood, NSW), Emma McCaskill (Sparkke at The Whitmore, SA), Thi Li (Anchovy, VIC), Shannon Martinez (Smith & Daughters, VIC), Sharon and Carol Salloum (Almond Bar, NSW), Jaci Koludrovic (Icebergs Group, NSW), Isabelle Caulfield (Poly, NSW), Federica Andrisani (Fico Dining, TAS), Imogen Czulowski (Africola, SA), Palisa Anderson (Boon Luck Farm, NSW) and Sarah Knights (Automata, NSW). Sommeliers include: Bridget Raffal (Sixpenny, NSW), Samantha Payne (wine consultant, NSW). Running the floor will be: Kylie Javier Ashton (Momofuku Seiōbo, NSW) and Nikki Friedl (Africola, SA).
The dinner will kick off at 6.30pm and tickets are $295 each, including a four-course menu with matching wines. All food and wine has been generously donated so that all proceeds raised directly support UNICEF Australia's Syria Crisis Appeal.
As the conflict in Syria enters its ninth year, more than eight million children are affected and in need of clean water, vaccinations, education and psychosocial support. 
Girls and women are particularly vulnerable to abuse and exploitation with many having fled their homes and seeking refuge in neighbouring countries, or internally displaced in Syria and without their usual support networks.
Throughout August and September, restaurateurs, chefs, bakers and cafe owners from around the country are also invited to take part in #CookForSyria by putting a Syrian-inspired twist on one of their favourite dishes (or by creating a new dish) and donating at least $5 from each sale of that dish to the UNICEF effort. 
For registration visit: www.cookforsyria.com/au