ACCC announces country of origin food labelling checks from July 1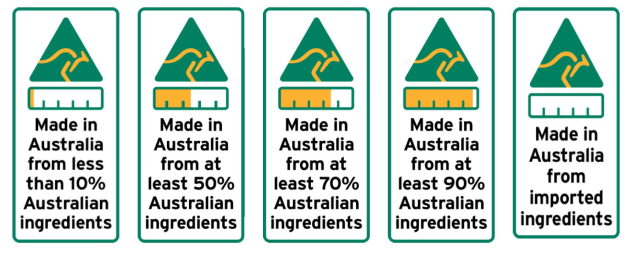 July 1 is D-Day for manufacturers, processors and importers with food products for retail sale in Australia, with the introduction of mandatory country of origin food labelling.
As such, the ACCC will conduct a market surveillance of 10,000 food products to ensure businesses are correctly displaying the new labels.
The updated origin labelling requirements were announced by the Federal Goverment in July 2016, and businesses had two years to change food labels labels on packaging or in-store signage.
Designed to better communicate to Australian consumers about the origins of the food they buy, the requirements apply to food sold in stores, markets, online and from a vending machine.
Restaurants, cafes and other foodservice venues are excluded.
ACCC deputy chair Mick Keogh says, "Consumers should look out for the new labels if they want to find out where their food is grown, produced, made or packed, so they can make an informed decision about the food they buy.
"We've been providing guidance for businesses over the past two years about the new food labelling system, including how to apply and interpret the standard.
"We are now entering the compliance phase, where we are making sure businesses are presenting accurate information about country of origin to their customers."

To comply with the new standards, businesses are required to display one of four country of origin labels on food packaging or in-store signage.
The 'Grown in' label is a reflection of where the ingredients come from and where processing has occurred. It is typically used for fresh fruit, vegetables, meat and seafood.

In comparison, 'Produced in' is a claim about where the ingredients come from and where processing has occurred. It is suitable for processed foods, but it can also be used for fresh foods.
'Made in' is a claim about the manufacturing process involved in making the food. This can include food with no ingredients
from Australia.
'Packed in' claims are used for foods that contain ingredients from multiple countries and can't claim to have been grown, produced, or made in Australia or any other country.
SPC Australia's general manager marketing and innovation, Simone Coté, welcomes the mandatory introduction of country of origin food labelling.
She says, "SPC supports the transparency these regulations bring, with Australians often mislead by the impression that certain packaged products are Australian, when in fact they're not.
"We encourage people to look for this new bar coding system which signifies the percentage of Australian ingredients in their products, helping them make informed decisions when shopping for themselves and their families."
The ACCC's market surveillance aims to identify businesses that may not be complying with the food labelling laws.
Keogh says, "Some consumers are willing to pay extra for products grown, produced or made in Australia, and producers and importers should be aware that any claim which is likely to mislead consumers will also be a breach of the law.
"We just want to ensure that consumers can make informed choices and businesses have a level playing field to compete fairly in relation to these claims."
For further information, please refer to the guide to assist businesses to comply with the Country of Origin Food Labelling Information Standard 2016.