A new Melbourne pie shop is responsible for this bizarre pie burger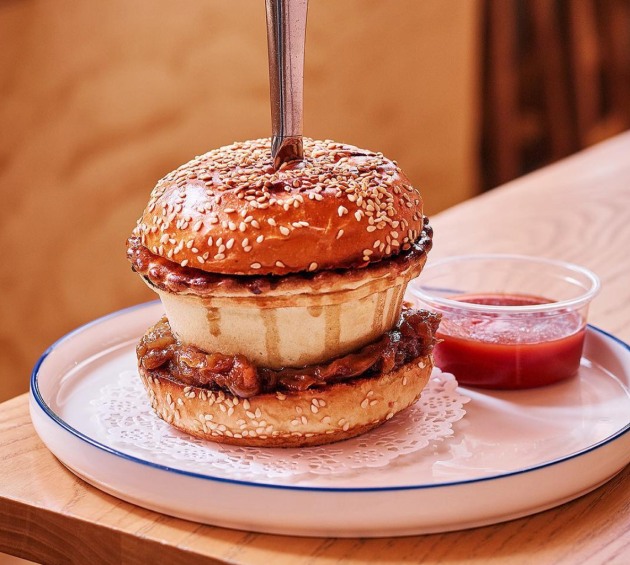 A dedicated pie shop has opened in Melbourne's CBD, serving both sweet and savoury things encased in shortcrust pastry.
Wonderpop head chef Raymond Capaldi is also responsible for the "Tradie Slammer" – a mince pie sandwiched in a brioche bun with onion jam.
It's something Capaldi ate to refuel the tanks when he was a struggling young chef working at the Dorchester in London. When the Scotsman moved to Australia, he won a hat at his Melbourne restaurant Hare & Grace.
Despite his high-end experience, in an interview with Broadsheet Capaldi said that the pie shop is very casual. "We're not gourmet," he says. "It's just a good pie."
The shop window display puts pies on pedestals under glass cloches, like something from Alice in Wonderland, so from the outset customers will likely expect something out of the ordinary.
The menu shows two ends of the spectrum. Customers can order a confit duck pie with parsnip, honey and coffee jus, or a mac and cheese pie topped with crushed Cheezels.
It can be presumed that pies like the latter are Instagram food, designed for photos and novelty, but knowing Capaldi's fine-dining background, that judgement might be misplaced. Good Food reported that the Tradie Slammer has in fact proven very popular with early morning CBD workers, with some lining up outside at 6:30am to get their hands on one.
The pie inside the Trade Slammer has a shortcrust pastry bowl and a puff pastry lid, with a classic mince filling. Broadsheet reported that the pie pastry recipe is designed to have sound structural integrity so as not to crumble or split when you bit into it. However adding brioche and onion jam to the saucy, flaky mix might actually make the whole thing harder to eat, which is usually the opposite intention a chef has when putting something in bread.
So what do we make of this bizarre food mash up?
It could be a carbo overload, like ordering pizza with a side of fries, or it could be that this chef is onto something.