A new all-pink restaurant in Melbourne has caused a stir on social media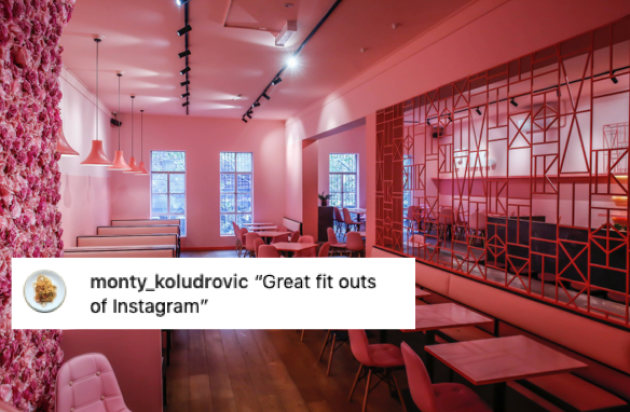 Pink. The Restaurant. That's the name of a new restaurant now open on Swanston Street in Melbourne's CBD.
Everything from the floor to the booths, lamps, window frames and ceilings is pink. Even the health-focussed Mediterranean-inspired food is pink, with pizza bases coloured with beetroot.  
In a press release, a spokeperson for the restaurant said, "Pink creates undeniably 'insta-worthy' moments to inspire and celebrate the true beauty of everyone who dines at their pink tables."
It's designed to look good; something co-owner Darren Male is happy to admit.
In an interview with Broadsheet he said, "Instagram has typically been owned by the people who know the tricks, or the beautiful people, so we've tried to create a space where everyone can feel beautiful," who also said the venue is promoting a message of "self-love".
It's also designed to raise awareness for women's mental health. There's a "selfie studio" upstairs, which Male says is a charitable endevour, as Pink. The Restaurant has pledged to donate $2 to women's mental-health charity Liptember for every photo posted from the "selfie studio" with the hashtag #frompinktoyou.
"Life can be tough for young people in our community, and social media has played a big role in connecting us with each another and often disconnecting us from the core of who we are. Pink is a place where every element of our restaurant encourages customers to share beautiful messages of self-love with the people that matter the most to them," Male said in a statement. "For us, it's about redefining healthy Italian food for a new generation that goes beyond just skin deep".
But some members of Australia's hospitality community have expressed opinions about the restaurant's intentions. Food critic at the Australian John Lethlean took to Instagram saying "I hate this restaurant already."
Comments streamed in from chefs and food writers who shared the view that a foodservice venue designed primarily for photographs is "cringeworthy", according to Melissa Leong, food writer and host of SBS's the Chef's Line.
Duncan Welgemoed, chef-owner at Adelaide's Africola, said: "Imagine an entire restaurant full to the brim of influencers, all photographing themselves. In fact, that's all they seemed to be doing. Standing around in expensive clothes, snapping away with phones and cameras. One pose after another, as though they needed to prove their own existence, right there, in the moment. Crucially, this seemed to be the reason they were there in the first place. There was very little eating. Just pouting and flashbulbs and thereby momentarily distracting themselves from the bleak futility of their wasted, Selfie taking lives."
Cookbook author and TV chef Poh Ling Yeow wrote: "Well, it's just part of what I call "evading the natural order of things" for a quick buck mentality that pervades EVERYTHING these days. Making tv shows not for quality content but what advertising space they can sell with it, feels before food, image over culture. I guess we can take solace over the fact that hype evaporates as quickly as it materialises, a bit like a fart."
Lis Davies of Lis Davies Communications, a public relations agency that also deals in media and influencer relations, commented: "In a country where property, produce and wages cost more than anywhere else in the world and there's a ceiling on what restaurants can charge, we'll be drowning in these before long."
News.com and delicious lifestyle writer Melissa Hoyer pointed out that the partnership with Liptember was "admirable" on Lethlean's post. But, which not disagreeing with the fact that the donations are positive, both Lethlean and Melbourne cafe owner Lorena Guzman Moreno were quick to note that the association with pink is "sexist".
"How is creating a Barbie pink cliche interior going to empower women? Is it a womb? And why use mental health as a gimmick? So tacky. Are blue restaurants now for men's mental health? The whole thing is a head spin. Hopefully they've put more thought into the food they'll be serving," Guzman Moreno wrote.
@pinktherestaurant's own Instagram page already has 17,000 followers and 45 posts, many of which are photos of young influencers and models, including Miranda Kerr, Romee Strijd, Kim Kardashian, Kylie Jenner, all adorded in or backdropped by pink and captioned with phrases like "be your own kind of beautiful" and "you glow girl". 
Foodservice reached out to Male for comment but did not receive a response before this story was published.