2018 Countrywide Café of the Year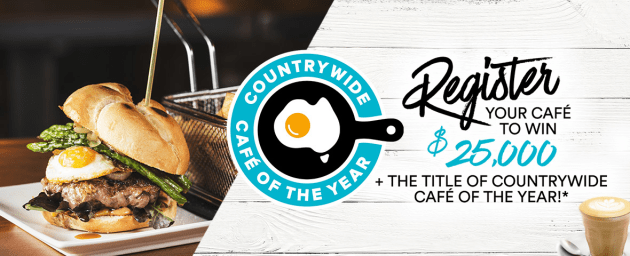 Countrywide Food Service Distributors are the largest group of independent wholesale distributors in Australia.
From Kalgoorlie to Toowoomba, Darwin to Hobart and everywhere in between, their distributors span the country to deliver exceptional services and products to assist your business in the foodservice arena.
No matter where you might be, with more than 160 distribution locations available Australia-wide, Countrywide Distributors can help you.

Countrywide also loves our cafés! And they want to give Australian cafés the chance to WIN $52,000 in prizes!
How? It's simple! If you meet the definition of a café, register for Countrywide Café of the Year.
Here's how:
MAKE A Purchase
Purchase minimum $150 of products from your local Countrywide Distributor between 1st February 2018 to 31st March 2018. Keep a copy of your invoice for uploading with your online registration.


REGISTER Online
Register here by completing the form with your details and uploading your Countrywide Distributor invoice. Please note registrations close 31st March 2018, 11:59PM.


GET CUSTOMERS Voting
Your local Countrywide Distributor will deliver your Café of the Year Promo Kit to you. Display promo materials in your café and encourage your customers to vote for you at every opportunity. Use social media to spread the word and make sure you tag and hashtag us! @cwcafeoftheyear #cwcafeoftheyear.


MOST VOTES Win!
Drive your own success in the competition. Make sure customers vote for you online via the competition website. Most votes overall takes the title and $25,000. There will be five regional prizes of $5,000 each and eight weekly prizes will be awarded too. Terms and Conditions apply.
Countrywide Distributors are a one-stop shop for everything you need to successfully run your café – from food ingredients, ready-made food items, to napkins, packaging and even cleaning products.
And that's not where it stops – Countrywide also places high importance on delivering personalised and professional service at a competitive price, while partnering with you to develop your business.
Countrywide are the distributors of choice for cafés.

To find out more about the Café of the Year promotion, visit cwcafeoftheyear.com.au.
And please visit countrywide.net.au for more information on how Countrywide Distributors can help your café.